Hugely popular Tatty Bumpkin classes - which encourage children's physical development, their creativity, their self-confidence and their emotional wellbeing - are coming to our area!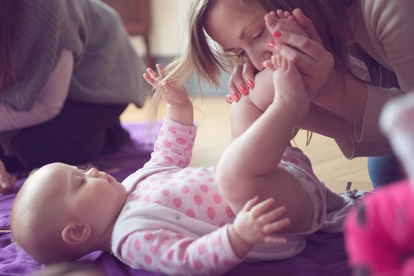 "I cannot recommend Tatty Bumpkin classes highly enough Local Mums! I was worried about my youngest daughter who, at 16 months old, was refusing to bear any weight on her legs or pull up to stand. I have watched on in amazement at the progress she has made since joining the classes. After the very first class she was saying " p, up" asking us to help her stand up and jump like she did in class. She is getting stronger and more confident in her movements as the days go by and I attribute that to all the things she is learning in class. Movement is encouraged in the children (and their mums!) in a fun and engaging way, so we almost don't realise how much of a work out we are getting! The classes are so much fun and really are the highlight of our week. Thank you Tatty Bumpkin for all your help!" 
Renima Rahman Shafique, Local Mum
"I highly recommend Tatty Bumpkin classes to all Local Mums. I attended the mother and baby yoga and my second son attended 'bendy bodies' in school. With her heart and soul in it Sandra never made it look like work."
Sadeeka Choudhuri, Local Mum

Tatty Bumpkin 
Baby Bumpkin is coming to Kingston and Hampton!
Bonding, happiness, giggles and yoga for you and your baby.
The classes are tailored to your child's developmental stage and incorporate music, story-telling and postures inspired by Yoga. A progressive curriculum for babies 6 weeks – wobbly walking to aid development, relaxation and bonding.
-          Classes for Babies from 6 weeks to wobbly walking
-          Based around our unique Stories and Music
-          Learn techniques to relax, stretch and aid development
-          All sessions aligned with the Early Year Foundation Stage
Come and move, stretch, dance with Baby Bumpkin - roar like a lion, hiss like a snake, buzz like a bee, down like a dog then ssshhhh, still as a mountain.
Trail sessions are available for £5.00 on request!
To book please contact Sandra by a message on Facebook, a text on 07415 584835 or email kingston@tattybumpkin.com
For more information please see www.tattybumpkin.com/kingston