September heralds the arrival of a new musical venture for local children and teenagers with the launch of The Band Project Chiswick.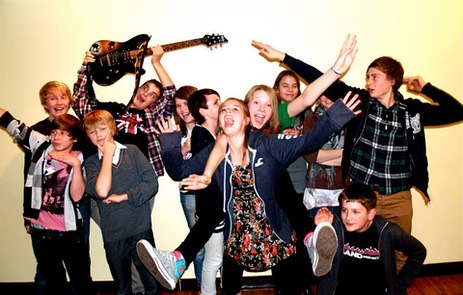 Many children and teenagers would love to play an instrument or be part of a band but may be too shy or don't have an outlet to this.  Others may already play instruments but would really love to experience more than their standard music lessons.
The Band Project Chiswick offers young aspiring musicians the unique opportunity to learn and progress with their chosen instrument in a fun and supportive environment while experiencing what being in a band is all about.
Courses take place in rehearsal studios guided by expert tutors and also include a guest workshop with top UK session musicians who regularly work with international stars like Westlife, Leona Lewis, Sir Tom Jones and Professor Green. All of this gives the students the chance to experience the fun, dedication and passion that goes into sustaining a career in music.  The older children also get to record a CD in a recording studio which is a fantastic opportunity and an experience they are sure to love and remember.  
Building self-confidence
Learning as part of a team is incredibly motivating, helps to build self-confidence as well as being enjoyable.  Whether the children are total beginners or have experience with their chosen instrument, these inclusive courses ensure that everyone plays an equally important role.  
With a background in music herself, centre manager Melanie said: "I hope the centre will inspire the students who sign up and help them develop their musical careers. There is real potential for some of the children to go on to become successful musicians or songwriters. It's so important for children to have goals and I think recording a CD and putting on the end of course gig will be extremely motivating. It's an incredibly rewarding process and many will find they gain a real confidence boost both musically and personally."  
Creator and founder, Chris Mountford explains: "we are driven by our passion for music and live performance and we want families to be just as enthused about The Band Project.  By engaging children with music they love in a supportive and encouraging atmosphere, we've seen the massive impact the courses have with so many benefits for all the children involved."
The Band Project opens its doors on the 27th September 2014, 11am at Arch Studios, Prebend Gardens, Stamford Brook, London, W6 0XT.
The Band Project Chiswick is offering a FREE trial for the first session, however places are strictly limited.  To ensure you don't miss out register your place by visiting www.thebandproject.co.uk or contact Melanie on 07828 156 332. 
STOP PRESS: Amazing new offer for Local Mums!
The Band Project announce Half Term one day workshop with special guest tutor
The Band Project is a live performance and band based course for kids aged 8 - 16 giving them the complete band experience of rehearsal, recording and gigging. On Monday October 27th they are running fantastic 1 day half term workshops from 11.00am - 5.00pm at Arch Studios, W6. During the day each band will learn 1 or 2 songs depending on experience before performing to friends and family everything they've learnt at the end of day gig.
The workshop will also have a special guest tutor from The Band All Stars, Em Bollon.  Em is a gospel choir leader who has appeared on the X-Factor as part of the choirs during live shows along with leading The University of Surrey Gospel Choir and setting up the University of Surrey Staff Gospel Choir. She has now set up her own company Motivation By Music using her positive approach and love for singing and performance to offer confidence boosting, stress relieving workshops in high pressure workplaces. Here's a clip of The University of Surrey Gospel Choir performing with students from The Band Project, Guildford:
https://www.youtube.com/watch?v=iKG01-D1r3s&index=53&list=UUGpYp5pXnQQL4OHIqOBd3aw
The workshop is on Monday 27th October and will be from 11am - 5pm @ 48.00 +VAT .  50% off for Local Mums (just quote Local Mums Online to receive this offer).
With places limited for this special half term workshop to just seven children, The Band Project has also just released new six-week course dates for Chiswick and the surrounding areas. The new courses will start on 1 November and includes expert tuition, a guest appearance from a 'Band Project All-Star' and the opportunity to stage an end of course gig to family and friends.
The course includes:
·         3 hours tuition per week with an experienced tutor at Arch Studios, Stamford Brook, W6 (2 hrs per week for 8-10 year olds)
A guest workshop with a member of our 'All Stars' team, a line up of top UK session musicians who've played and performed with artists including Leona Lewis, Professor Green, Lilly Allen, Tom Jones, Rizzle Kicks, Paul McCartney and many many more.
·         A gig for family and friends on the final week showcasing everything they have achieved.
The Juniors (8-10 year olds) will cost £96 + VAT and will be from 11am - 1pm
The Seniors (11 – 16 years) will cost £144 + VAT and will be from 2pm - 5pm
10% discount for Local Mums (just quote Local Mums Online)
Places are strictly limited so to ensure you don't miss out, early booking is highly recommended.  To secure a place, please contact Melanie (see contact details below)
Read Local Mums' reviews of The Band Project
Contact:
Melanie O'Toole
The Band Project
Email: mel@thebandproject.co.uk
Tel: 07828 156 332
The Band Project on Facebook
The Band Project on Twitter
www.thebandproject.co.uk