Popular local dance school AJ Cheer & Dance offers dance, gymnastics and cheerleading classes to help children learn and stay healthy while having fun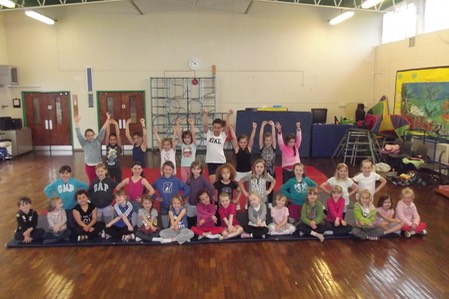 AJ Cheer & Dance is a new local school providing dance, cheerleading and gymnastics classes to children aged 2-18 years and run by friends Amy and Jess. 
"We currently run over 30 sessions across the week in various different styles including Street Dance, Ballet and Tap Dance," explains Amy, who gained her BA honours in Dance at Roehampton University. "Our Cheerleading and Gymnastics squad team are in training to compete at national cheerleading competitions next summer!"
Award-winning
Amy and Jess studied Dance together at Roehampton University and competed together in the University Cheerleading team to a national level winning numerous titles including First Place in the Midlands Classic League, level 3/4 in Birmingham 2011.  
Since their cheerleading training Amy and Jess decided they wanted to extend their teaching experience to include Cheerleading Coaching and took the NCSSE qualifications. They both also teach ballet, modern, tap and Jazz to children of all ages from 18months – 16 years in various locations around South West London, coaching children through their dancing exams.
"We are in over 10 schools offering breakfast and after school clubs around Putney and Wandsworth," explains Jess. "We also run holiday camps throughout the school holidays which are always very popular!"
"Our aim is to try and get as many children as possible involved in physical activity in the comfort of a safe and fun environment," expains Amy. "We aim to keep our prices as low as possible in order to maintain accessibility from all families!" 
Higher level
AJ Cheer & Dance offer classes in various styles of dance in and out of schools around South West London. They are currently in over 10 schools running breakfast, after school and lunchtime clubs as well as our extra curricular classes for those children who wish to train at a higher level. We offer Cheerleading, Jazz and Ballet classes and hope to extend their extra curricular timetables throughout the course of this year. 
"We want to get as many children as possible active and enjoying sport as part of a healthy lifestyle," adds Jess. "Dance and Cheerleading are our biggest passions and we are always looking to welcome children of all ages into such a fantastically exciting and rewarding hobby!"
So if you would like your children to experience the passion and fun of dancing or cheerleading with Amy or Jess, why not give them a ring and find out about your nearest class?
Read Local Mums' reviews of AJ Cheer & Dance
Contact:
Amy or Jess
AJ Cheer & Dance
Amy: 07828455568
Jess: 07540145516
Email: contact@ajcheer.co.uk
AJ Cheer & Dance on Facebook