Local Mum Samantha Smith found her dream job combining work and family life and complete control of her own destiny. It all started with a bridesmaid's dress...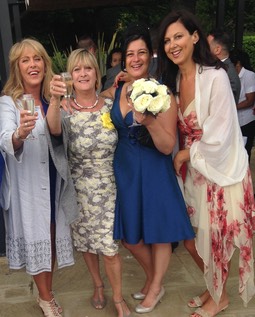 Local Mum Samantha Smith (second from right) works for Forever Living Products - the largest grower, manufacturer and distributor of aloe vera and bee products in the world. 
The job offers a recession-proof position, working from home, with an uncapped income. "It promises your own business, no bosses and as many holidays as you want," says Samantha. "Importantly for me, I believe the products are amazing - so it really works for me."
Discovering Forever
"I discovered Forever Living Products through a mum in the playground," explains Samantha. "She was a distributor of the products and I'd heard lots of mums talking about how amazing the eczema cream was. Then I heard them talking about the Clean 9 weight loss system. I bought a Clean 9 kit from her after Christmas with the intention of losing the Xmas bulge but just did not get around to it. I had started a new relationship and was enjoying going out for dinner and drinks so just forgot about it and it stayed sat in my cupboard.
"So the weight was creeping on... I piled on two stone in two months; I was aghast! My sister's hen weekend came around and I shied away from the pool feeling bloated and fat. We came home and I was full of good intentions (after all I had a bridesmaid dress upstairs one size too small with the plan being that I was going to slim into it!). However the weeks just rolled past and I was still getting nowhere.  
"We got to three weeks before the wedding and by now I was feeling depressed and thinking of asking my sister to ask one of her friends to be a bridesmaid instead of me. It was then that she told me she knew I was struggling with my weight and had already purchased a bigger dress.... PHEW! But I was so humiliated, I could not fit into it!!!
"So that's when I decided to do the Clean 9. I lost 11llbs in 9 days! Half way through the cleanse I went to the lady who was altering my dress as she was going to use fabric from the first dress to put panels in the second. When I arrived she was so impressed with my obvious weight loss she told me she was going to wait until the following Tuesday (2 days before the wedding) to see if it fitted....
I did it!
"Well it did! I was so soo happy, it was an amazing feeling and an amzing achievement.  The Clean 9 is a nine day nutritional cleansing programme, however one of the rather wonderful side effects was that I lost weight.
"I have carried on with the maintenance programme and lost a further 12llbs. I'm fitting into all of my clothes again and feel wonderful.
"So this was my introduction to Forever Living Products. Half way through my Clean 9 I went with my sister for the final fitting of her dress. While I was there I had a good chat
 with the owner (who happens to be a friend) as she is also a distrubuter for Forever Living. I had no idea that the company offered so many other products - amazing creams that can be used to treat eczema, bee pollen pills for hay fever, fluoride-free toothpaste and a great range of aloe-based skin care products. After a short discussion I was already well on my journey. We met the following week to go through the business opportunity and here I am!"
I wish I had discovered it sooner
"I can still take and collect my sons from school, get all of the other things done in my day that I need to do and at the same time I can generate an income for myself.  I worked such long hours when the boys were small and missed out on so many of their first milestones, I just wish I had discovered this sooner…"
Samantha is now looking for other mums to become working partners to help build their own part-time business. "No previous experience is required," explains Samantha. "Full training and support is provided with high income potential for the right people. No investment, stock or door to door sales is involved either." If you think this could be what you are looking for give Samantha a call! 
Read Local Mums Reviews' of Forever Living Products
Contact: 
Samantha Smith
Independent Distributor
Forever Living Products
Tel: 07946602043 
Forevever Samantha Smith on Facebook 
www.foreverliving.com