Carshalton Mum Adama Dabo went back to her roots and the power of pure Shea Butter to find a cure for eczema. She produced such effective and beautiful products that she started her own successful skincare business.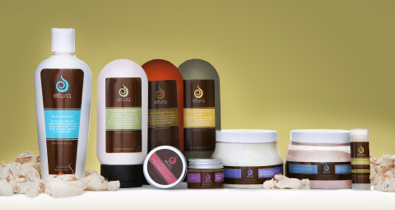 Local Mum Adama Dabo was inspired to create her own skincare range using traditional, pure ingredients by her niece who suffered from eczema. "The only thing that soothed her skin was pure, unrefined Shea Butter," says Adama.
   
"I tried various natural products in their pure state,"  explains Adama, who went back to her African roots to explore other traditional ingredients for skincare. "The results were amazing! Since then I haven't looked back." 

Kitchen business
Adama left her profession as an IT specialist when she started her skincare business, called Etura. "I spent more and more time staying up until the wee hours of the morning in my kitchen at home mixing creams and lotions, balms and jellies," says Adama.

"The more time I spent mixing ingredients the more fascinated I became by how wholesome and effective they were and the sensational effect they had on the skin."

With friends and family requesting more and more of her products, Adama decided it was selfish to keep them just to her close circle. "I decided to set up a business so that more people could enjoy and benefit from the knowledge I had gained and the recipes I have put together," adds Adama.
Purely natural
"Etura's promise is to remain 100% natural," explains Adama. "We will always use pure, natural ingredients and our products are handmade so we remain sure of what goes in it. We believe that if goodness goes in, then only goodness will come out." 

Adama is keen to hear our feedback on her products. "After trying these products, mums can feel free to contact me with comments on what they especially like, how I can improve or about any new products they would like to see," says Adama. "I'd love to hear from you!" 
A little luxury 
"I love the way these products leave you feeling!" adds Adama. "They bring a little luxury into your life every day.  I'm a big fan and hope Carshalton Mums will be too.  I wish everyone good health and glowing skin!"
If you would like to try the amazing benefits of pure, natural ingredients with Etura's beautiful skin products, why not contact Adama for more information?

Find out more and to read Carshalton Mums' reviews of Etura

For more information contact:
Adama Dabo,
Founder
Tel: 02030703300
or visit www.etura.co.uk

This article was first published on www.carshaltonmums.com