"Enjoy the finer - and free-er - things in life!"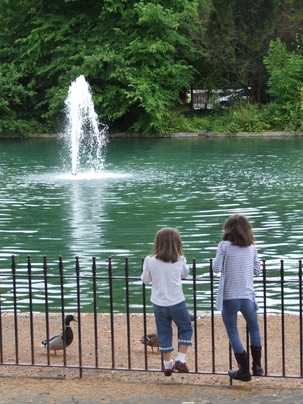 Ewell Village and Bourne Hall
Spring Street, Ewell, KT17 1UF
By Sarah Peters, Events Editor

Enjoy the finer, and free-er things in life in the pretty village of Ewell where you can spend a whole day and part with hardly any cash!
Situated in the heart of Ewell Village, the Bourne Hall Gardens are small but ideal for a scoot and a nice picnic; some time feeding the ducks or just relaxing in the shade of the trees with some books to share.
The Bourne Hall Museum presents some exhibits donated by local archaeologists. This is, after all, a very historic area: Henry VIII had a hunting lodge at Nonsuch just down the road, the well on Epsom Common was the first ever Spa and Epsom Downs racecourse has been hosting the Derby for some 200 years.
On show is a hansom cab used by a Prime Minister and a primitive fire engine; a collection of toys, an old dolls house, old costumes and the oldest loo in the country.
Refreshments: Just Deli is friendly and has plenty of space to park a buggy. Afternoon tea with warmed scones and jam for a mere £3.50. Kids lunch box is £2.45 for sandwich, fruit, yoghurt and crisps, with a colouring book and crayons. Great value!
Best thing: The library is in the building too so you could join in a singing session or read some books in the comfy kids area... and its free!
Worst thing: Parking attendants pounce the minute your car goes over the the allotted time. Don't be caught out because you are enjoying yourselves... they won't budge once they have spotted your overdue ticket!
Parking: Pay and Display.
Admission: Free.
Open: Mon-Sat
www.epsom-ewell.gov.uk 020 8393 9571