Local Mums recommend the best mobile beauty treatments in our area


"I highly recommend Spa By Car to all Local Mums. Just had the lovely Hanna from 'Spa by car' pamper me with a lovely facial and gel manicure all courtesy of my gorgeous daughter for Mother's Day!"
Gilly Dalton, Local Mum

"I recommend Spa By Car to Local Mums. Sara from Spa By Car came and gave me a fantastic mani/pedi and made me feel a lot better!"
Rose Thorne, Local Mum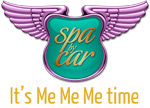 Spa By Car
Spa by Car brings you…a new you.
With over 50 different mobile beauty and spa treatments -from bronzing to make up, facials to threading – our highly qualified therapists will transform the way you feel about yourself.  And since Spa by Car comes to you, the only time you lift a finger is to have your nails polished.
On the outside you will be re-beautified. On the inside you will feel more relaxed and more like 'you'.
One of life's indulgences? Yes. One of life's necessities? definitely!
Be completely pampered at home, by Spa by Car, it's Me Me Me time.
Contact:
Spa By Car
Tel: 020 7209 2396
Email: info@spabycar.com 
www.spabycar.com