Organising parties can be difficult and stressful. Here are some recommendations from local mums to help you get going.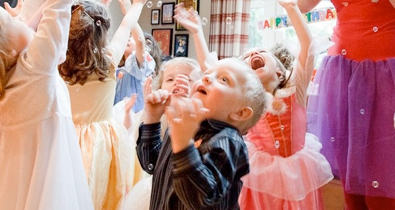 The Phoenix Centre
Phoenix Centre, Mollison Drive, Wallington, SM6 9JW
Tel: 020 8770 6006
Email: john.pook@gll.org
"I have used the Phoenix Centre for my daughter's birthday parties for the last three years. I think the facilities are great. We used soft play. You have one hour in soft play and 45 minutes for the tea party. We provided our own food but they can do food for you. The staff are extremely helpful and will clear up for you afterwards. It is a great venue for a party - no mess at home - and they even give out invitations for you to use. I would definitely recommend it!"
Leanne Stinson, Sutton Mum of Grace, 4 yrs and Liam 2 years.
Manor Park Children's Centre
"This venue is very reasonably priced. The staff are helpful with lots of ideas for activities and games to play during the party. The venue was all set up with toys and tables in correct positions. All that was required by us was food and decoration. It is a very straightforward and stress-free party location!"
Louise Johnson, Sutton Mum of Ayla, 4 yrs and Isaac 2 yrs.

Horton Park Farm
"There is a soft play area which all the children can use, followed by food in a separate marquee. The staff then bring in farm animals for the children to see, which the kids really love. Everyone can then stay as long as they like at the farm. It's not one of the cheapest options, but still very reasonable."
Valerie Merlet, Local Mum of Leon (5 yrs) and Louis (4yrs).

Sutton Arena
"This venue is easy to book. You get 45 minutes in the play area and one hour in the room where the kids have their tea. It's reasonably priced, very easy to do and the staff are very helpful. I would definitely recommend it."
Valerie Merlet, Local Mum of Leon (5 yrs) and Louis (4yrs).
Westcroft Leisure Centre
"Westcroft is easy to book and has a great play area.  There is lots of room for the children to climb and run around and use slides. Sometimes (normally at weekends) the play area gets too busy and more often than not two parties get to share it, which can make it difficult to keep an eye on your party. After playing you get a separate room for your food. The facilities are great, so overall I would still recommend it."
Gema Cavia, Carshalton Mum of Eduardo (5 yrs) and Matteo (3 yrs).

"I can highly recommend Kevin's Entertainment, my daughter has been to 2 parties he has done and had her 5th party with him last september. He's very good and reasonable price. I paid £110 for 2 hours and each child got an animal balloon to take home. Well worth the money."
Tracey Harvey, Local Mum of Erin (six years) and Kiera (four years). 

"We had silly millie the clown last week for evies 4th birthday. She does magic and party games and was fantastic!"
Alison Bonner, Local Mum of Evie (four years).
"Charlie Farley is great (but I think quite pricey!)"
Emma Clements, Local Mum.
"Does anyone have any recommendations for a little hall to hire for a child's birthday party? I would just like to find a light and modern looking space as some of the halls I have seen are just dark, dingy, expensive and wouldn't look out of place in the 70's. Any ideas welcome!!!"
Ana Filipe-Howard, Carshalton Mum of Erin (aged 12) and Carla (aged 2).
"Baptist church on bastead road @ Carshalton Beeches."
Yvonne Ogunbe Telford, Carshalton Mum.
"Bedzed hall - very new - sprung flooring, kitchen etc and very reasonable."
Alison Hargreaves, Carshalton Mum.
"Guide headquarters by the Robin Hood pub in Sutton."Catherine Hamilton, Carshalton Mum.
"Guide Hall, Wrights Row, Wallington. Has a lovely enclosed garden at the rear."
Nadine Mitchell, Wallington Mum of James (12 years), Sophia (nine years) and Natalia (5 years).
"The methodist church off stafford road - really cheap! £25 for 3 hours....bargain."
Louise Miller, Carshalton Mum of two.
"Thank you for all your suggestions. The Guide Hall is no longer being hired out apparently. Which is a shame as it sounds lovely."
Ana Felipe-Howard, Carshalton Mum of two girls.


If you would like to recommend something party-related to other Local Mums, please send it to us at info@localmumsonline.com