Local Mums recommend the best theatre shows in our local area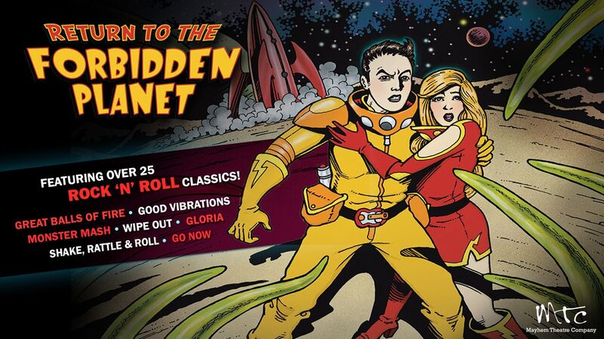 Return To The Forbidden Planet by Bob Carlton

Wednesday 26th - Saturday 29th September 2018
Epsom Playhouse

Prices from:  £13.00 (Family and group discounts available)
Mayhem Theatre Company will open their first run at the Epsom Playhouse this September with the cult hit Return To The Forbidden Planet  - Shakespeare's forgotten rock'n'roll masterpiece, by  Bob Carlton. 
Vintage  rock  meets Shakespeare's The Tempest as this  unforgettable, award-winning sci-fi hit makes its landing on the Epsom stage from 26 to 29 September. 
Return To The Forbidden Planet  is a show of dazzling, breathless and irresistible energy, fusing Shakespearean dialogue with 1960's sci-fi "spoofery". The brainchild of Bob Carlton,  Return to the Forbidden Planet  is loosely based on the 1956 MGM film  Forbidden Plane t and Shakespeare's  The Tempest.  And, as if the combination of rich Shakespearean dialogue and a genre of film respected more often for imagination than a scholarly value wasn't bizarre enough, Carlton sets the show's musical score to some of the biggest hits from the 1950s and 60s such as, "Wipeout", "Great Balls of Fire," "Monster Mash," "Only The Lonely," "All Shook Up," "Teenager In Love," "Good Vibrations," "Shake, Rattle & Roll,"  and many more.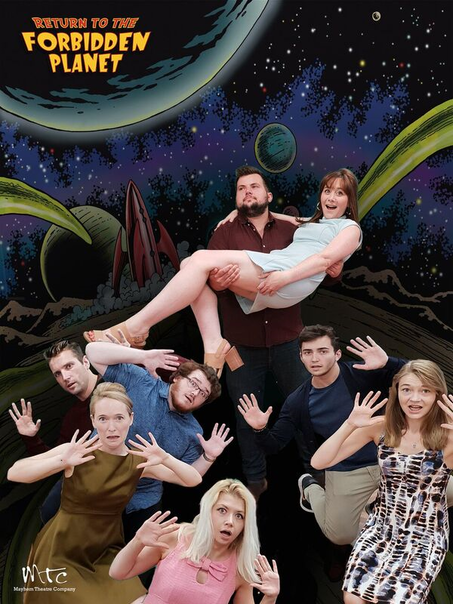 A musical that has it all
MD Ashley Harvey says: "I am thrilled to be a part of this throwback to the sixties musical thrust into space. The upbeat score is bursting with popular hits and funky doowop harmonies. It's great to have the opportunity to reimagine these classic hits." 
Return To The Forbidden Planet  is a carefree good excuse for theatre-goers and baby boomers to rehash some of pop culture's greatest musical hits.  
A true cult classic, this musical has it all - a mad scientist, scary monsters, a wise-cracking robot, a secret scientific formula, romance and loads of memorable "Shakespearean" lines, each with a twist.  
Director Katie Renton says: "I'm so excited about this ridiculous show. Who knew an intergalactic Shakespearean musical could shimmy its way to our hearts? From day one, our amazing cast has been fully behind all of the over-the-top acting, the 60s inspired choreography and the classic songs. We really do aim to achieve that high stakes B-movie quality, and although you would assume that was easy, it's actually a lot of hard work! I couldn't have asked for a more fun team - never a rehearsal goes by without at least a few tears of laughter. I think audiences will really get on board - more so than they even think...!" 
In 1990, the crazy sci-fi musical beat out  Miss Saigon  and flew into orbit winning the Olivier Award for "Best Musical". Since then it's been wowing audiences all around the world with its red-hot rock `n' roll tale of interplanetary love and adventure and will, literally, leave you shakin', rattlin' and rollin' in the aisles begging for more. 
Inspired by the motion picture 'Forbidden Planet' courtesy of Turner Entertainment Co. 
An amateur production presented by arrangement with Music Theatre International (Europe)  
All authorised performance materials are also supplied by MTI Europe www.MTIShows.co.uk 
Return To The Forbidden Planet
Box Office: (01372) 742555 / 742227 
Wed 26 to Sat 29 September 2018 
7.45pm (doors open from 7.00pm) & 2.30pm matinee on Sat 29 March
Epsom Playhouse, Ashley Avenue, Epsom, Surrey, KT18 5AL
Tickets: £16.00 (£13.00 concessions) – Family and Group discounts available www.epsomplayhouse.co.uk
www.mayhemtheatre.co.uk