Cooking with kids is always an experience: mostly messy, sometimes stressful, often fun. But what do children get out of it? As our Food Editor Tracy Carroll explains, a whole lot more when you add local food to the mix.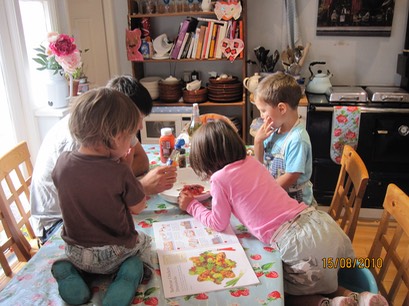 Many children between the ages of six and eight cannot identify the origins of the everyday foods they eat, according to a survey I came across recently. Fewer than one in four of the 1,000 children questioned knew that beef burgers came from cows, while some said eggs came from sheep and apparently others thought cheese was from butterflies.  
The statistics are shocking, but the good news is that we mums can ensure our children are well informed about what's on their plates. With all the delicious local food on offer to enable children eat healthily while learning the stories from field to fork, help is home-grown. Here are my tips for making a trip to your local shops an exciting and educational experience.
1. A day out
A visit to your farm shop, high street butcher or artisan bakery has all the ingredients of a tasty adventure – with a serious message.  The colours and aromas of fresh produce are bound to make youngsters' imaginations soar, and talking to friendly farmers and shop owners about the story behind their products can inspire kids while encouraging them to try different foods. Some business owners may even agree to a little peep "behind the scenes", especially if you call ahead and arrange to visit at a quiet time. After all, if they're passionate about what they do, they'll appreciate your interest. It's worth asking!
2. Field to fork
Thanks to the brilliant pick-your-own opportunities that Surrey has to offer, children can choose and gather ingredients for themselves and learn how food is grown, while playing an active role in the preparation process and getting enthusiastic about cooking. Starting out with fruit on the tree and ending up with pudding on the plate, shop locally and you're connecting kids with the journey their food takes. All it takes is a basket and a good dollop of enthusiasm.
3. Peace of mind
Buying locally means knowing where food has come from; this is never more important than when we're cooking for our children. Next time you're in your local butcher or fishmonger, get chatting to the person behind the counter. Ask the butcher about the pigs the bacon comes from, what the best buy is at the moment and seek out cooking tips; ask the greengrocer what's fresh and local. Now go compare: try asking the same at the supermarket.
Choosing local food allows us to bring the freshest, best quality ingredients into our kitchens, and being able to talk to the growers and producers who are so knowledgeable about the food they sell brings us that much-needed peace of mind.
Happy cooking!
Learn more about the benefits of buying local and what Surrey's local food scene has to offer with Local FoodSurrey.
Find out more about how Local Mums Online is supporting local food producers

*Survey carried out by Cornish Mutual, February 2010
Tracy Carroll, Local Food Editor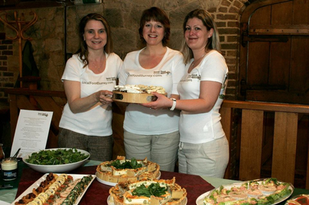 Tracy Carroll (centre) is a Reigate Mum of one teenage daughter and runs Local Food Surrey, a website all about enabling people to find great food and drink in Surrey. Tracy blogs for us about fantastic local food finds in our area.