Holidays are one of the most expensive decisions you make so it's important to be happy. Kersty Wood from Travel Counsellors makes sure your holiday is a dream and not a nightmare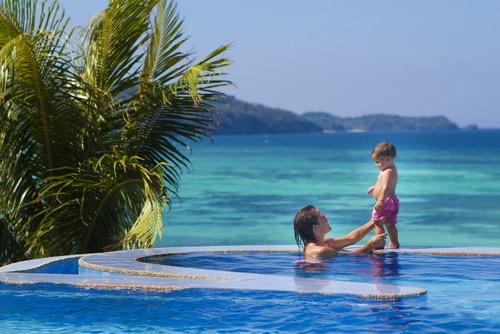 Booking family holidays is often stressfull. The research can seem never-ending and so many things are out of your control or have the potential to go wrong.

That's why lots of mums are seeking experienced consultants to plan their holidays for them and take care of the finer details and risks.
One of the most popular travel consultants for Local Mums is Kersty Wood from Travel Counsellors. Kersty has been booking holidays for over 20 years and always gets great recommendations on our Local Mums' Facebook groups.
Passion for travel
"I have been in the travel industry for many years," explains Kersty, who lives in Epsom with her husband and two children. "I have worked for travel agents both in the UK and abroad, a major airline and various tour operators."
Kersty has a real passion for travel and as well as many holidays abroad has spent two years travelling round the world. "I have travelled extensively around Australia, New Zealand, Thailand, Malaysia, Indonesia, Hong Kong, Egypt, India, Dubai, Kenya, Bermuda and lots of other countries," says Kersty. "I have also visited much of Europe including many cities."
Kersty's impressive travel experience helps her successfully book all types of holidays from family villa, beach, cruise and safari holidays to theatre and city breaks; her extensive experience allows her to offer the highest level of customer service and care. Kersty is also able to provide the choice, flexibility and competitiveness that comes from being part of an award-winning global travel company like Travel Counsellors.
Protection and flexibility
Booking holidays through Travel Counsellors also allows Kersty to give her clients the peace of mind that they have complete financial protection. "I understand the last thing anyone wants to do is risk losing their well-earned holiday through no fault of their own," explains Kersty. "So whether you book just a flight or a tailor-made holiday through Travel Counsellors, everything you book is 100% covered."
As well as the normal working hours Kersty can be available in the evenings and at the weekends, offering the flexible assistance you need at a time that is suitable for you.
If you are getting married why not ask Kersty about her great honeymoon gift registry service to help you pay for the honeymoon of your dreams, or book a spa weekend to pamper yourself and friends before the big day?

"I would love to take care of all Local Mums' travel needs!" says Kersty. "Please drop me an email or give me a call." 
So if you would like to take the stress out of your travel arrangements and are fed up with spending hours trying to find the right holiday - or are simply frustrated by the lack of quality, personal service you receive, why not give Kersty a call?
Read Local Mums' reviews of Travel Counsellors
Contact:
Kersty Wood
Travel Counsellors
Tel: 01372 743096
Email: kersty.wood@travelcounsellors.com
www.travelcounsellors.com



Kersty Wood, Travel Counsellors