When you need jobs done around the house a reliable, family-friendly firm is essential. Local family business BBC Joinery offers all that and much more.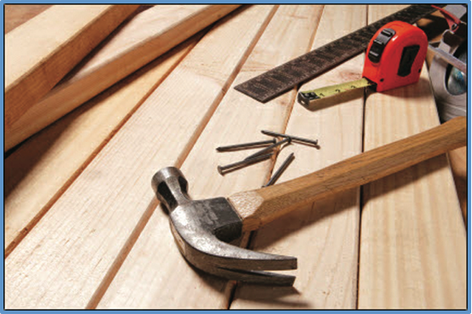 Good recommendations from local mums are essential when finding a reliable local building firm. Ideally the company will be family-friendly and family-run.
Local building firm The Battersea Building & Joinery Company Limited (BBC Joinery), based in Tadworth, Surrey, fits the bill perfectly and prides itself on its excellent reputation serving the local community.
Family values
Family-run by Kevin, William and Thomas Peare, BBC Joinery specialises in all aspects of building and refurbishment works, property maintenance and bespoke joinery and aims to be a "one stop shop" for local families' building requirements.
"What sets us apart is that we genuinely care about the quality of our works and customer satisfaction above anything," explains Thomas Peare. "We are a family run business with family values and it really does show in the work we produce. Mums can rest assured that their project will be in safe hands!"

With over 26 years of experience BBC Joinery has a wealth of knowledge and skills in the construction and joinery industry and has developed an excellent reputation based on their commitment to quality, value and customer satisfaction. 
"We pride ourselves on our expert workmanship and friendly, efficient customer service," continues Thomas. "We are extremely proud that the majority of our work comes from customer recommendations and see this as a great testament to the quality of our products and services."
Big and small
BBC Joinery has built up an impressive range of contacts in the 26 years they have been in business. "All our sub-contractors have been with us on our journey for many years and provide the same standard of works we do," explains Thomas. "Whether it's a new extension, bespoke kitchen or property maintenance, we aim to be the number one choice for home improvements."
Ideally located in Tadworth, Surrey, BBC Joinery can undertake work across Surrey and SW London. "No job is too big or too small as we can adapt to suit any project," says Thomas. "We have experience in running projects of all sizes for both domestic and commercial clients; from handyman services to studio flats and townhouses to larger construction projects."
"Working with main contractors, interior designers, architects and other trades – whatever the job, we pride ourselves in working closely with our customers to ensure a prompt, reliable and professional service at very competitive rates," adds Thomas.
BBC Joinery's skilled team is always on hand to answer any questions. So whether it's your new top-of-the-range bespoke kitchen, an elegant bathroom or some general building work or handyman services that you need to get the house ready for Christmas why not give this local family-friendly firm a call?
BBC Joinery are running the following special offer for Local Mums:
Any Local Mum who uses BBC Joinery's "Half a day" handyman service will receive £15.00 M&S vouchers. (T&Cs apply)
Any Local Mum who uses BBC Joinery's "full day" handyman service will receive £25.00 M&S vouchers. (T&Cs apply)
Any Local Mum who uses either of the above services will be entered into BBC Joinery's Christmas hamper draw. Bookings must be confirmed before 10/12/2012.

Read Local Mums' reviews of BBC Joinery
For more information and a free quotation
Contact Thomas Peare:
The Battersea Building & Joinery Company Limited (BBC Joinery)
Tel: 01372 276 922
Mob: 07810 876 984
Email: Thomas@battersseabuilding.co.uk
www.batterseabuilding.co.uk