Our Food Editor Local Mum Renee has found out how sugar affects our health the hard way. Here she talks about the sweet stuff and why we need to see less of it in all its forms.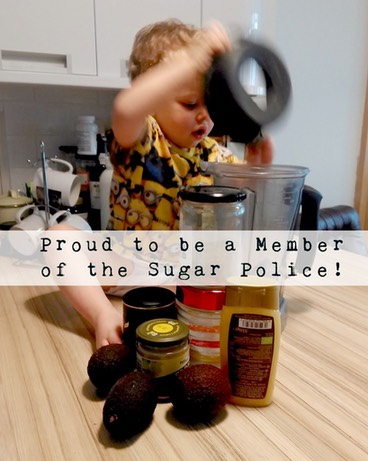 Hi, my name is Reneé, and I'm a fully fledged member of the sugar police! This confession won't come as a shock to those who know me, or those who have been following my blog for some time. I've written before about my relationship with sugar. I started reducing my refined sugar intake almost a decade ago after being diagnosed with PCOS, and have been Paleo (no sugar) for four years now.
Shocked by the sugar content
As I was scrolling through my Instagram feed yesterday, I came upon a new Deliciously Ella recipe for scones. They looked quite tasty so I watched her video, but was put off by the oat flour base. The next video that popped up on YouTube was for her chocolate ganache cake, which had me drooling it looked so damn good. I went and checked my ingredients cupboard, and with exception of maple syrup, I had everything else. Figuring I would substitute it for honey, I set straight to work on making the cake, but planned on reducing the sugar.
Ella's recipe calls for 225ml maple syrup in total (which is described as 11tbsp + 4 tbsp, not given in ml). I was going to add 5 tbsp to the cake, and 2 tbsp to the glaze, but after putting in the first 2 tbsp I knew I couldn't go through with even my reduced plan, because it would still be so much more sugar than I would usually add to a cake. I also suspected that the almost entire bottle of maple syrup was what made the cake so yummy. As I'd already added everything to the blender at that point I whizzed it all up, poured the batter into the tin, then popped it in the freezer raw. What I'd created instead was amazingly tasty, dairy free fudge, containing just 1-2g of sugar per square.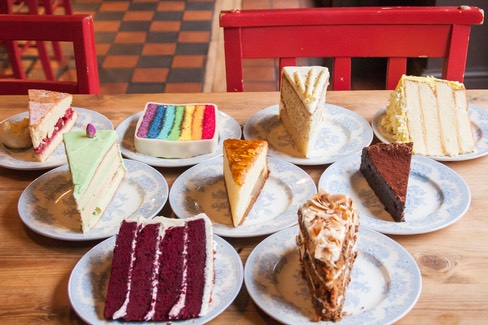 Cakes should be a treat, not a daily necessity
Here's the thing that we just don't seem to be getting on board with: natural unrefined sugar is still SUGAR! Now, of course making your own food in any capacity is better for you than opening packets from the supermarket, which not only contain processed sugars, but also more often than not, a shed load of other unnecessary and unnatural ingredients. When it comes to cakes, the more natural the ingredients the more nutrient dense it will be, which is a big win. I'm sure that Ella (and her team) would argue that her desserts are meant for special occasions, and not everyday elevenses, but how many of you can put your hand on your heart and say that you only eat cake once in a blue moon?
This article is not meant to vilify Ella, I truly applaud anyone who turns their physical health around with good nutrition. Having done the GAPS Diet, I know how hard going it can be. I'm writing it because looking through my Instagram feed, I feel like I'm a lone voice. I can see a whole load of pretty pictures, and not much sense being spoken. So many bloggers seem to be jumping on the 'sugar free' bandwagon, posting gorgeous mouth watering recipes which contain almost as much honey or maple syrup as the amount of sugar you'd need to bake a regular cake with. There seems to be a lot of noise being made by people who don't know a huge amount about food. 
I'm not claiming to be an expert, I'm just a mum who is trying to feed her family well. My last recipe for chocolate brownies have just 1½ tbsp of honey in the batch that serves 6-8 people. We need big celebrities endorsing recipes like this in my opinion.
Natural or not it is still SUGAR people! Until we get used to having MUCH less of the sweet stuff, nothing will change!
Whose with me?
Follow Renee's cookery blog for Local Mums Online Renee's Recipes
Follow Reneé Davis' brilliant blog about Motherhood without the sugar coating Mummy Tries