Relaxed, family-friendly restaurant with a huge variety of international dishes to try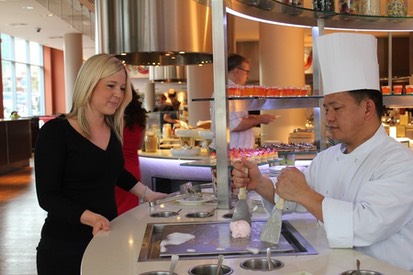 Jimmy's World Grill and Bar
122, The Broadway, Wimbledon SW19 1RH
With 400 covers this popular restaurant on The Broadway in Wimbledon is huge but thanks to its stylish interior and while-you-wait cooking stations it manages to feel like a much smaller restaurant.
The staff are friendly and great with kids and the self-service buffet means you are never left hanging around. The wide variety of freshly-prepared dishes on offer is a great way to get kids to try different types of food. The food prepared while you wait is also a talking point and an interesting interlude for little ones to watch.
I went with my husband and four kids under eight and never felt uncomfortable with the children, even when my four year old ran off and served himself at one of the buffets. The relaxed clientele (lots with children too) were too busy deciding which dish from the huge variety of world food on offer or watching their pancakes being fried.
With hundreds of dishes on offer from around the world the selection is impressive. Once you have ordered your drinks you go up and serve yourself - as many times as you like - so great for hungry kids (and parents) and those curious to sample the many, frequently changing dishes on display.
My kids described it as 'Paradise', which is a pretty ringing endorsement, but they were mainly talking about the marshmallows on sticks and the chocolate fountain...
Best bit? Fun, exotic and child-friendly
Downsides? Some of the food is very salty so steer clear of the more unhealthy end of the spectrum and balance out with salads and fresh fruit.
Contact:
Jimmy's World Grill and Bar,
122, The Broadway, 
Wimbledon
SW19 1RH
Tel: 0208 417 0444
www.jimmysworldgrill.co.uk