Local Mums attend the launch of the ethical community coffee brand Esquires in Epsom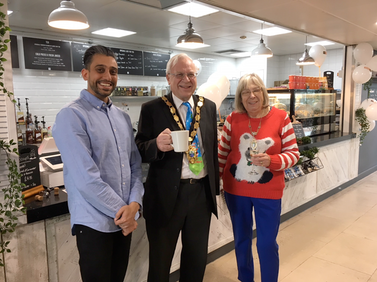 Local Mums attended the Official Opening of Esquires in Epsom on Friday 14th December.
Ethical community coffee brand Esquires Coffee has opened a brand new store in Epsom Square which was officially opened by the Mayor Of Epsom.
Esquires were thrilled to invite Local Mums to the opening: "With Prosecco on offer for our lovely Local Mums, craft bags for the kids, as well as complimentary mince pies for the first 20 people to order a coffee, it was a truly celebratory occasion!" said Hamel Thaker, owner of Esquires Coffee Epsom. 
There was also the chance to try Epsom Esquires delicious Christmas drinks; the Snowball Hot Chocolate is the perfect warming treat, made with the finest cocoa butter, with subtle notes of coconut and almond, or the simple yet elegant Golden Flat White, a luscious coffee with all the familiar qualities of a much-loved Esquires Coffee, with the addition of sparkling golden cocoa powder.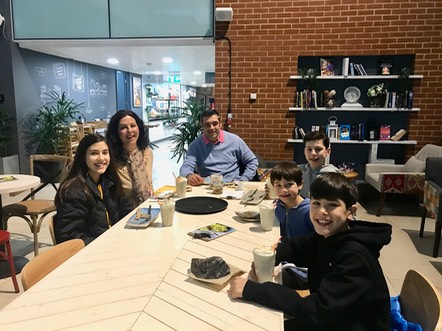 Local Mums Online founder Kathy McGuinness, pictured above at Esquires, commented: "This is a wonderful space for families to relax and enjoy great food and treats together. We love the airy feel of the triple height ceiling and natural light. The location next to the library is perfect for local mums too. A lovely manager and a fabulous, family-friendly addition to our local area."
Owner Hamel says, "Our shop is much more than a coffee house, it's a cool and quirky environment, filled with communal tables and cosy seating, making it the perfect location to relax, catch up with friends or work, with the added benefit of delicious food and, of course, great coffee! We are thrilled that the Mayor and Mayoress officially opened it for us and can't wait to welcome our local community in!"
Located on the first floor of the atrium next to the library and medical centre, the brand new coffee shop provides a great place to relax, unwind and catch up with friends.
Providing a great range of Fair-trade and organic coffee and loose-leaf teas, the expansive drinks menu also includes warming hot chocolate complete with cream and marshmallows, and a healthy range of freshly-made, cold-press juices and smoothies.
With a wide-ranging and delicious brunch menu, the new café also offers a variety of delicious, seasonal food offerings, from smashed avocado with chilli, lemon, rocket & tomato to deli sandwiches and freshly baked pastries. Offering much-loved classics, with Gluten Free and vegan options, all dishes are available to eat in or take away in full compostable boxes. 
If you don't have time to head to the main shop, the kiosk unit in Epsom Square serves superb coffee, cold press juices and smoothies, as well as a great range of sweet and savoury treats, from bacon baguettes and sausage rolls to muffins and pastries – it's a grab and go station with added treats!
Esquires focuses on sustainability and social responsibility; all fruit and vegetables are locally and sustainably grown where possible. It also supports the local community and uses independent and family-run suppliers whenever they can. Even the coffee cups are now sustainable with compostable coffee cups launched in to Esquires stores nationwide from October 2018. 
Esquires Coffee Epsom takes pride in its community spirit and central location, with the advantage of plenty of space for community get-togethers around the 10-seater table, along with lounge chairs to relax in. Perfect for parents with prams and pushchairs, there will even be a kiddies corner including a play coffee shop and children's books area, so the children are kept busy while parents relax...
The new store is open at Esquires Coffee Epsom, 6-7 Derby Square, Epsom, KT19 8AG. 
Opening hours 8am-5.30pm Monday to Saturday with food available to sit in or takeaway all day