Bezerkaz Circus are experts at performing draw-dropping entertainment for all sizes of events. Now you can hire their amazing skills for your own party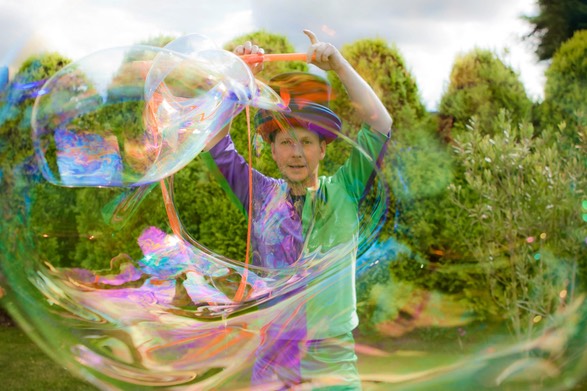 From village fetes and town festivals to huge events like Glastonbury Kids' Field, WOMAD and the World Scout Jamboree, Sutton-based Bezerkaz Circus have performed jaw-dropping tricks, made gigantic bubbles and taught spectacular circus skills all over the UK.
Now Bezerkaz' amazing repertoire of skills and tricks can bring an exciting new dimension to children's parties and events with their own brand of children's entertainment, circus skills parties, circus workshops, giant bubble making, stiltwalking and much more.
Extensive experience with children
Set up in 2001, Bezerkaz have years of experience working with kids and also specialise in workshops for children with special needs.
"We offer an incredible variety of tricks for children's parties and are much more than just  children's entertainment," explains owner Shaun, who is a PGCE-trained teacher and has recently become a dad for the second time.
"Our circus skills workshops allow children to try plate spinning, diabolo, juggling, twirling, balancing objects, bubble making, clown games and lots more," he adds. 
"Everyone will find something they can achieve.  It's so much more valuable than just watching a show." 
Bezerkaz can also meet and greet on stilts, perform bubbles, make balloon models, juggle fire and offer a clown show, all helping to make your event an unforgettable and educational experience.
Exclusive offer for Local Mums 
Bezerkaz Circus are offering Local Mums £15.00 off any booking for a party (1hr-2hr). (The usual price is between £135 - £200).

So if you would like to add a jaw-dropping dimension to your child's party or event, why not give Shaun at Bezerkaz a call?

Read Local Mums' reviews of Bezerkaz Circus
Contact Shaun:
Bezerkaz Circus
Tel: 07866 261 346 
Email: info@bezerkaz.co.uk
Twitter @bezerkazcircus
www.bezerkaz.co.uk