Local Mums recommend the best theatre schools in our area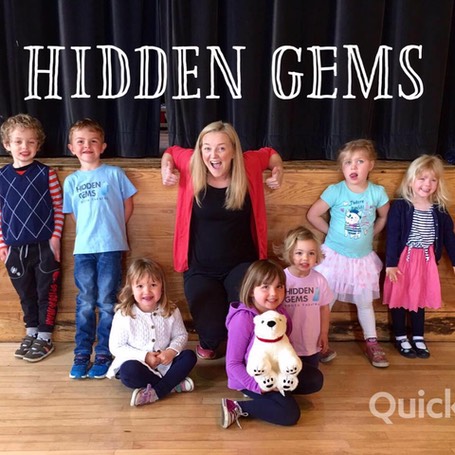 "I highly recommend Hidden Gems to Local Mums. My three year old Amelia absolutely loves attending classes on a Saturday! She bounces out of the room and asks when she is going back the minute we leave. Gemma is so talented and I'm so pleased that Amelia benefits from Gemma sharing her passion"  
Rosie Bridges, Local Mum
"I recommend Hidden Gems to Local Mums. Amazing group, my son loves it and loves that he has a voice in deciding what shows they do and building the characters together."
Tracy MacDonald, Local Mum

"I highly recommend Hidden Gems to Local Mums. This is a great class! Gemma is a lovely and fun teacher, getting the kids running around and enjoying themselves for the whole hour. So glad we found it!" 
Semley Wilkinson, Local Mum
"I recommend Hidden Gems to Local Mum. William really enjoys the class in Coulsdon. They do so many different exercises with Gemma who is great fun; any child interested in performing or just having fun would enjoy Hidden Gems."
Vanessa McCormack, Local Mum
"I highly recommend Hidden Gems to Local Mum. My oldest boy wasn't sure he would like it but he ran out of the class begging to go back next week. My boys 9 and 7 years old both loved every second and haven't stopped talking about everything they have done! Just what they needed." 
Lataanya Curling, Local Mum
Hidden Gems
Founded to enable children to find a love in theatre, movement and expression to aid development that will benefit all areas of their lives. 

 
Building confidence and enhancing skills such as Dance, Creativity, Drama, Team Building, Expression, Confidence and Singing. 
Hidden Gems youth theatre's aim as a company is to encourage a love of the theatre and performing arts, to nurture any natural talent shown encouraging each individual to express their own creativity. We aim to provide quality work with an emphasis on team work and communication. 
Our members have not been selected through auditions or interviews, our only demand is that they commit fully to working together and working hard. The outcomes will therefore be doubly rewarding. 
Contact:
Gemma Bowden
Director/ Founder
Hidden Gems Youth Theatre 
Tel: 07749 496 565
Email: info@hiddengemstheatreschool.co.uk
www.hiddengemstheatreschool.co.uk