Local Mum Jo Watson shares her passion for books and experience in children's publishing with this blog that brings us news and recommendations from the world of children's books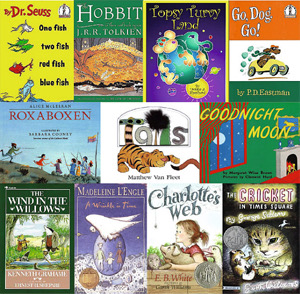 December 

Books are my Bag this Christmas
You may have spotted the Books are my Bag campaign this autumn, which is all about showing your support for local high street bookshops. I've been making a start on my Christmas shopping and have snaffled up one of these very handsome Books are my Bag Christmas bags.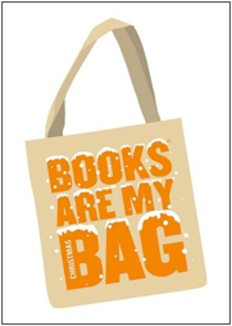 Bedtime stories are already turning to anything Christmas related, and I've had a good browse in a few of my favourite bookshops, with the help of my 4yr old and 7yr old, to bring you a list of Christmas-themed titles, old and new. 
Top of the list is Clement Moore's The Night Before Christmas, which we always read on Christmas Eve, after preparing the mince pies and whiskey for Santa, and carrots for the reindeer. There are numerous versions but this pop-up version, created by Robert Sabuda is exquisite in its detail.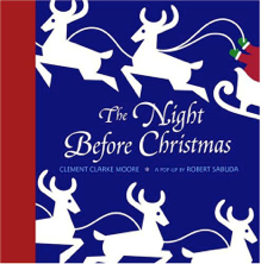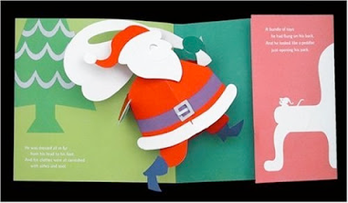 This is an old favourite, but recently out is a brilliant noisy board book version with sleigh bells and reindeer clattering sound effects, from Ladybird.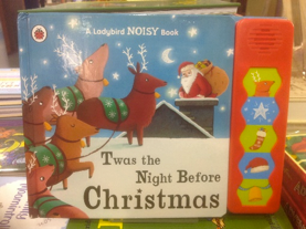 For some festive toilet humour, there is Father Christmas Comes Up Trumps by Nicholas Allen, the follow-up to Father Christmas Needs a Wee, which promises to be a 'rip-roaring read'. This was a top pick with my testers!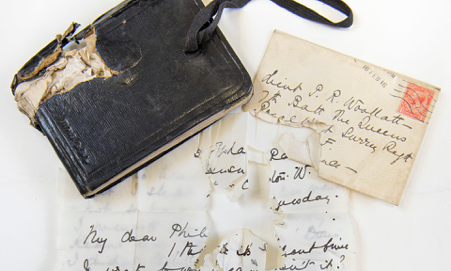 Sequels to established classics by new authors are all the rage and The Christmas Tale of Peter Rabbit by Emma Thompson is beautifully written and illustrated, and faithful to Beatrix Potter. Peter and Benjamin meet William the turkey, who proudly declares that the MacGregors are 'having him for Christmas dinner'. So be prepared for some frank conversations about where meat comes from!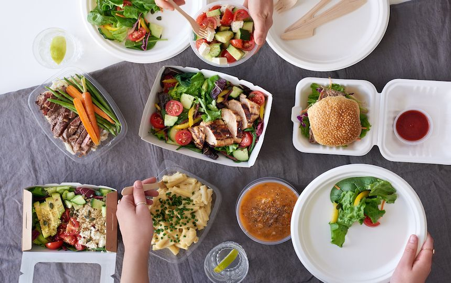 And finally, a collection of four Michael Morpurgo Christmas stories (The Best Christmas Present in the World, Angel Wings, The Best of Times and The Goose is Getting Fat), in a nice heavy book, with stunning colour illustrations from Quentin Blake, Michael Foreman, Emma Chichester Clark and Sophie Allsopp.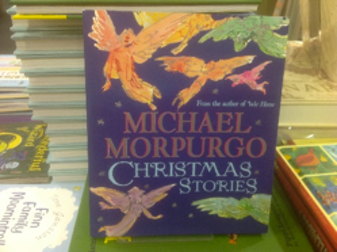 So please support high street bookshops this Christmas. And if you are looking for an alternative use Hive...
So please show your love for books this Christmas by giving them and buying them in your local high street bookshop. Make the most of the knowledge booksellers have by asking for recommendations. If you can't find what you are looking for, the majority of bookshops can order in for you. And it might also be good to know that you can buy books online AND still support your local bookshop. Try out Hive, where you can order a book, and collect it for free from your local bookshop. A % of every sale goes to them.


Clues, clubs and codes - great books on detectives!

Clues, clubs and codes – great books on spies and detectives
I was browsing on Usbourne's website recently and was suddenly transported back to my 70s childhood with The Knowhow Book of Spycraft.  I used to spend hours reading this book and making code wheels and invisible ink. So I was very excited to see that next month, Usbourne are reissuing this classic book as part of their 40th anniversary.  This was one of the 1st books published by Usbourne, and was even used in evidence at the high court trial of Soviet spy Oleg Gordievsky, who testified that this book gave away the KGB's tradecraft.
I also loved Enid Blyton's Secret Seven series about a group of children who set up their own secret club. Official club meetings were held in Peter and Janet's garden shed, and entry was strictly password-only.  Glossing over the fact that leader Peter, made them all wear S.S. badges, these books have recently been modernised and republished. The covers and inside illustrations are by the wonderful Tony Ross (of Horrid Henry and Gangsta Granny fame), and there are some great extras including "how to launch your own Secret Seven club".
Kate Pankhurst's new Mariella Mysteries series features a nine-year-old feisty detective, whose first two cases are "The Ghostly Guinea Pig" and "A Cupcake Conundrum". Think Scooby Doo crossed with Diary of a Wimpy Kid. The text combines Mariella's journal, her case notes and extracts from the essential Young Super Sleuth's Handbook, all quirkily illustrated and really engaging for emergent readers. My 6 yr old has just started reading this and loves it!
Harriet the Spy by Louise Fitzhugh was published more than 40 years ago, and is a classic in children's literature. Harriet is an aspiring spy, quirky and insightful, but a bit of a misfit. The book was banned by many parents and teachers who felt Harriet was a poor role model for children, and that her spying was actually gossip and slander. But Harriet copes with peer rejection and learns important lessons about friendship. I loved this book as a (slightly misfit) child, and look forward to revisiting it.
And last, but by no means least, the giants of the genre include Charlie Higson's Young Bond series and Anthony Horowitz's Alex Rider series. Rider fans might like to know that there will be an Alex Rider prequel coming this autumn, and there are now also graphic novel versions for younger readers.
The KnowHow Book of Spycraft (Usbourne) 7+
The Secret Seven series, Enid Blyton (Hodder Children's Books) 7+
Mariella Mystery series, Kate Pankhurst (Orion Children's Books) 7+
Harriet the Spy, Louise Fitzhugh (Harper Collins Children's Books) 9+
Young Bond series, Charlie Higson (Puffin) 8+
Alex Rider series, Anthony Horowitz (Walker Books) 12+ (also graphic novel versions 9+)
Books on art

In the Easter holidays, I'm taking my 6 year old daughter to see Katie and the Mona Lisa, a play based on the book by James Mayhew at the Ashcroft Theatre, Croydon. For those of you not familiar with the Katie series (age 4+), these wonderful picture books introduce famous paintings and artists in a story. 
Katie visits galleries, climbs into pictures and has amazing adventures! We love these books at home and they have sparked a real interest in art, and we will be making a first trip to the National Gallery in the holidays.  James Mayhew's first book, Katie's Picture Show is actually set in the National Gallery, and features paintings that hang there.
This got me thinking about other books on art that introduce painters and their different styles and techniques. Art history is also part of the Key Stage 1 curriculum, and my daughter has learnt about artists including Matisse and Turner, as part of her class topic work.
I particularly like the Usbourne series of colouring books such as My Very First Art Colouring Book (age 3+) which takes fifteen famous works of art ranging from Claude Monet to Andy Warhol. The book shows a well-known example, like Monet's The Water-Lily Pond, and explains the styles and techniques, then you get to draw or colour your own version. Usbourne have a whole range of similar titles, as well as books aimed at slightly older children such as the handsome looking The Children's Book of Art  (age 6+).
I also came across Picasso's Trousers by Nicholas Allan (age 6+); author of Father Christmas Needs a Wee, Cinderella's Bum and The Queen's Knickers. As with all of Nicholas Allan's books, there is plenty of naughtiness and silliness, but this book is also a very accessible introduction to Picasso's life and art. And a lift-the-flap on the last page reveals what Picasso's pants actually (probably) looked like!
But perhaps my favourite book of all, which is going on the birthday list, is Tell Me A Picture by Quentin Blake. This book was originally published to accompany an exhibition at the National Gallery in 2001. Quentin Blake  picks some of his favourite pictures from the National Gallery and has written and drawn his own thoughts about the story behind the picture, encouraging children to look at pictures for themselves and create their own stories.
Happy reading x
World Book Day!
On Thursday 7th March, it is World Book Day, the annual celebration of reading and books for children. World Book Day packs are sent to over 45,000 schools and nurseries, and all children will receive a special World Book Day £1 voucher, on or around the day itself.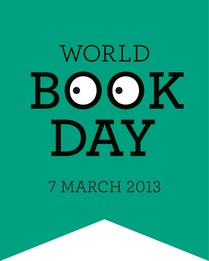 This voucher can be spent at participating bookshops on one of eight specially published World Book Day £1 books, or can be redeemed against any book or audio book of their choice costing £2.99 or more. Almost all of the bookshops on my last blog are participating in World Book Day.
Here is this year's stellar line up of World Book Day books and authors: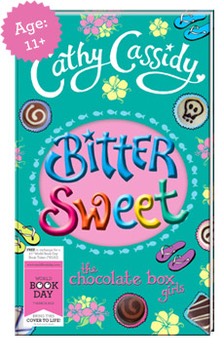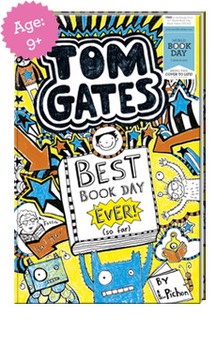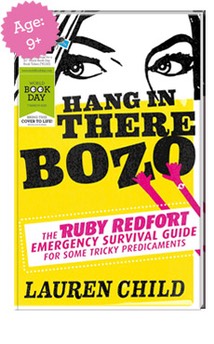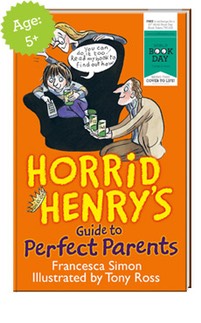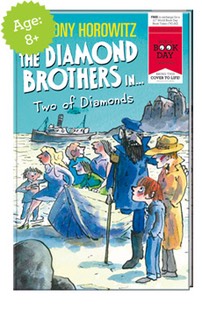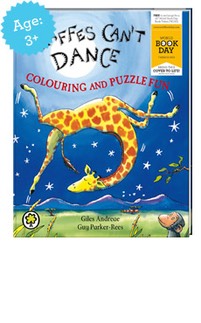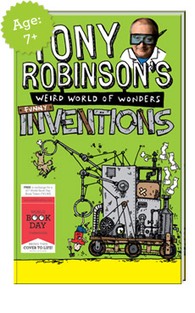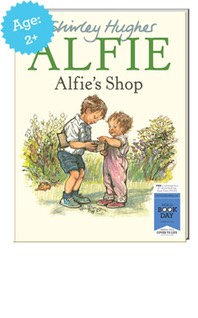 Its also worth taking a look at the World Book Day website (www.worldbookday.com). There are some great games (our current favourite is 'Winnie's Loony Laundry') and if you sign up to their newsletter, you can also make use of hundreds of free downloads like colouring sheets, make and dos, quizzes, puzzles and more.
And it wouldn't be World Book Day without a costume! Its yet another costume request from school. To save you time and money, here are a few simple ideas, making use of what you might already have at home: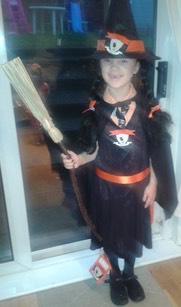 (My daughter as The Worst Witch)
School uniform + witches hat = The Worst Witch AKA Mildred Hubble
School uniform + glasses + Wizard accessories = Harry Potter
Witch costume = Winnie the Witch, Meg
Ballet uniform + mouse ears and tail = Angelina Ballerina
Stripy jumper + jeans + messy hair = Horrid Henry (blue/yellow) or Dennis the Menace (red/black) or Wally (red/white) or Dirty Bertie (a few mud splodges) or Harry and the Dinosaurs (with bucket of toy dinosaurs)
Knight costume/armour = Sir Gadabout or Beastquest
Anything green + a paper plate mask = The Very Hungry Caterpillar
Fairy costume = Tinkerbell, Flower Fairy, Rainbow Fairy, Felicity Wishes
Coat + straw hat + big bag + umbrella = Mary Poppins
Pants + cape = Captain Underpants
Big glasses + antennae = book worm
Shorts + jumper + ginger beer = Famous Five
Dress + red hair ribbon = Matilda
Cool clothes + "gadget" (make with cardboard and foil) = Alex Rider
Happy reading!


Support independent bookshops
This is my first blog for Local Mums Online and I'm delighted to be able to share my passion for children's books and reading. I have worked in bookselling and publishing for nearly twenty years, and as a mum of two girls, it's been a privilege to pass my passion onto them. 
Sharing books with your children is one of the nicest activities you can do, and it's great for encouraging listening skills, developing language skills, and igniting that passion for reading that will set them up for life. This blog will bring you book recommendations, but also news about children's book events at bookshops, libraries and festivals in the area. 
I passionately support Local Mums Online's stance on shopping locally and supporting independent high street traders. In the past 10 years, the number of independent booksellers in the UK has halved, in the face of price competition from online retailers and supermarkets. 
So I am dedicating my first blog to make a plea to support independent bookshops. Here is a list of fantastic shops in this area, all of which are either dedicated children's bookshops or have a strong children's section:
The Ibis Bookshop, 109 High Street, Banstead, SM7 2NJ
Wimbledon Books & Music, 40 High Street, Wimbledon, SW19 5AU 
Village Books, 6 Bellevue Road, Wandsworth SW17 7EG 
The Barnes Bookshop, 60 Church Road, SW13 0DQ
The Golden Treasury, 29 Replingham Road, Southfields SW18 5LT
The Lion & Unicorn Bookshop,  19 King Street, Richmond, TW9 1ND
Tales on Moon Lane, 29 Half Moon Lane, Herne Hill, SE24 9JU
Under the Greenwood Tree, 11 The Polygon, Clapham SW4 0JG
And it might also be good to know that you can buy books online AND still support your local bookshop. Try out Hive (www.hive.co.uk), where you can order a book, and collect it for free from your local bookshop. A % of every sale goes to them.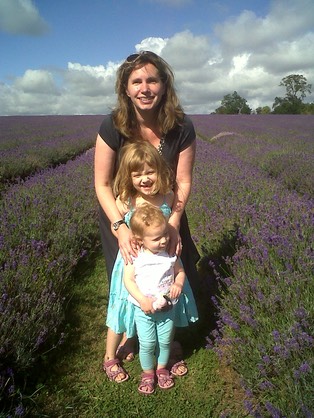 Jo with her daughters enjoying the local lavender