All About You, the new lingerie boutique in Reigate, aims to give women a confidence boost through a combination of fantastic customer service and stunning products.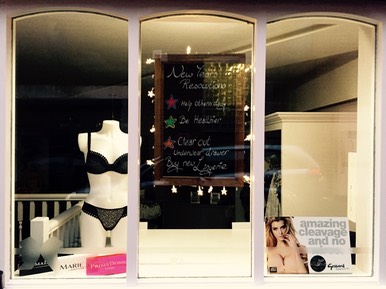 All About You is a new family-run lingerie boutique in Brewery Yard, Reigate, offering timeless lingerie with the aim of bringing back great customer service. 
"The response from our customers has been so encouraging," says owner Juliet who runs the new shop with her mum while her dad deals with accounts.  "We love spending time with each customer and ensuring they are happy with the service and purchase. We are fully trained bra fitters and our goal is to make sure ladies are wearing the correct fitting bra."
All About You also stock nursing bras, mastectomy lingerie and swimwear which Juliet and her mum are qualified in fitting. "We understand that ladies who have fought breast cancer still want to feel like themselves. We offer a warm, friendly environment where we are happy to close the shop if necessary to allow our customers to feel comfortable," says Juliet, who herself survived a double organ transplant before realising her dream to open her own shop.
Dream shop
Juliet has always wanted her own shop and after working in retail she knew it was something she enjoyed. "I worked in lingerie departments when I worked for Arcadia so I had some previous knowledge and training in the area. I felt that this was something that was missing from Reigate."
After finding the perfect sized unit in Reigate, which was ideally discreet too, Juliet decided to run the idea past her dad. "I intended to use my savings then go to the bank with my business plan for a loan but I wanted Dad's thoughts about the unit first. My parents came to see the shop and I explained my vision about how I saw the shop looking. Then my Dad said that he would be my partner as he was looking to invest in a new business!"
From there it was just a case of getting the right mix of brands to cover all ladies' requirements from nursing to sports bras to mastectomy. While they were picking the stock Juliet and her mum undertook further training from the brands to ensure they were giving the correct advice to their customers.
"The end result of the renovation is exactly how I pictured it," says Juliet. "A classic, clean and comfy environment. Both my mum and I really enjoy working here. The interaction with the customers and knowing that they feel relaxed enough to share details of their lives with you because of the environment they are in makes us so happy."
Personal service
"Bra fitting is a very personal job and ladies need to feel comfortable and confident in the person doing the job," says Juliet. "Ladies have left here feeling a lot better about themselves not necessarily because they have bought something but because someone has given them a confidence boost."
"We had a lady who was going to an RAF Christmas ball who was looking for a backless bra – which is one of the only things we do not sell," explains Juliet. "She told us that she had had two children, was self-conscious and didn't think she could 'get away' without a bra." Juliet asked the lady to come back the next day with the dress, promising that if she needed a bra Juliet would order one in for her. 
"The next day when the lady tried the dress on she looked amazing without a bra and I told her so," continues Juliet. "I asked her to try the dress on with a bra just to see the difference. The lady agreed that she actually felt and looked great without a bra. I could have upsold her and advised she needed a backless bra but I wasn't going to lie as she looked fantastic without one. I think my commitment to customer service has paid off as this lady has already been back twice!"
Confidence boost
"Sometimes ladies just need a confidence boost and that is all part of the service we provide," says Juliet. "We are honest, we are not all about sales and making money. We want to offer the best service to ensure our customers are happy. It is about going the extra mile. If we do not have a particular bra in stock in a lady's size we can usually have it in within three days and we are happy to do home visits. For us it is about bringing customer service back."
So if you like quality customer service as much as you love quality underwear why not pop in to All About You or give Juliet or her mum a call?
Read Local Mums' reviews of All About You.
Contact:
Juliet Fryer
Director
All About You
Brewery Yard, 
19b High Street
Reigate 
RH2 9AA
Tel: 01737-242860
Email: jules@allaboutyoureigate.co.uk
All About You on Facebook
All About You on Twitter
www.allaboutyoureigate.co.uk