Local Mum Lisa Jones is passionate about helping plus size ladies feel confident and look amazing, whatever the occasion. Kathy McGuinness visits Queen of Curves in Carshalton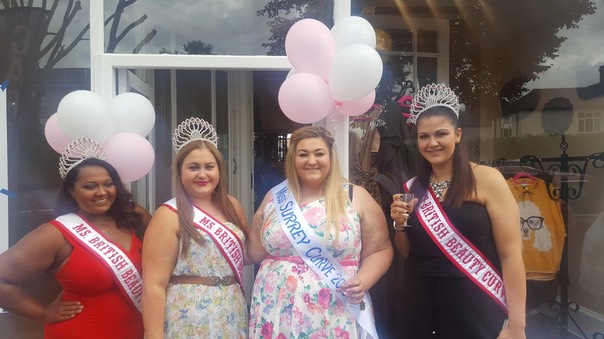 In an industry that does little to celebrate real women, shopping for clothes can often be a frustrating and depressing experience for many ladies. So I was thrilled to discover that a new shop has opened in our local area that aims to fill women with confidence and celebrate the beauty of clothes and real women in all their glorious voluptuousness.
Whatever your dress size we're all familiar with leaving a shop feeling worse than when we went in but it's impossible not to leave Queen of Curves feeling happy. Such is the loveliness of the shop (super handy for local school runs and shops), the stunning clothes and accessories and the joyful, positive vibe of the gorgeous proprietor, Lisa Jones.
As well as her impressive retail experience as a personal shopper for plus-size store Evans, Lisa's CV has helped her develop great empathy and people skills. Working previously as a children's entertainer Lisa specialised in helping children overcome a fear of clowns (her dad was a circus clown) and she also runs a thriving cleaning business helping elderly, disabled and vulnerable adults.

With over 40 years personal experience of being curvy (and plenty of bad-service horror stories) Lisa is passionate about making women feel good about themselves. 
Embrace your shape
"That is why I decided to open Queen of Curves," explains Lisa. "To sell beautiful clothes to beautiful ladies who deserve to feel beautiful. My plan is to help ladies feel really great about themselves; embrace their shape, relish their curves and emanate confidence."
"I had a lady in yesterday in jogging bottoms and a t-shirt who said 'I can't wear clothes like that.' I said to her, 'Yes you can! Anyone can - and you can look and feel amazing!'
"It is our right to have lovely things to wear," stresses Lisa. "To adorn our ample assets in pretty fabrics; embrace colours and flattering styles and well-made, beautiful clothes and accessories. Feel sexy! Feel attractive! Feel whatever you want to feel but never feel apologetic or invisible."

Feed your confidence mojo
Queen of Curves has the admirable ethos of wanting to help you be the best you. It aims to spread the word and make a difference to every fuller-figured, plus-size, curvy, voluptuous, beautilicious lady you know.
"It is easy to get in a style rut, always going for the safe option," adds Lisa. "Black skirt, black top, black trousers....but there are no invisible colours! People can still see you, you just look like you in black!
"Why not feed your confidence mojo with a splash of colour, a scarf, a belt, a multi-toned or even mono-chromed mix? Only feeling the black vibe? Then fine, we can do black, but we will do fabulous black!"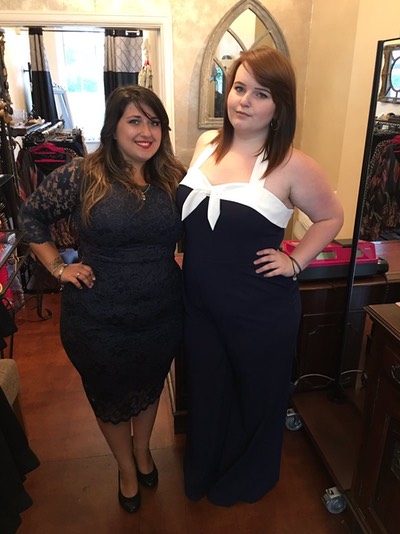 Lisa's daughters Amber and Yana model beautiful dresses at Queen of Curves

"Or let's do colour? Let's pimp our inner peacock and rock the World in gorgeous, multi-coloured gorgeousness!" enthuses Lisa. "Be the most body-confident, voluptous, womanly woman you can. Embrace yourself, celebrate yourself and all your lovely plus-size sisters and come on down to Queen of Curves to meet like-minded, style-focused, glamourpusses of a certain shape!"
Friendly, relaxed environment
As a small, independent, family business Lisa wants to offer something great to all ladies. "I want to make a difference in your wardrobe," says Lisa, whose two beautiful daughters Amber and Yana love to model her clothes. "Queen of Curves wants to be your go-to, your default shopping experience. Let's be a family!"
Lisa can offer out-of-hours appointments for special occasions, or a one-to-one personal shopping experience, complete with soft drinks or bubbly to make it an event. Lisa even has her own waiting area complete with comfy chairs and reading material for your partner and friends to sit and enjoy your fashion show.
So if you're keen to pump up your clothes confidence why not pop down to Queen of Curves, try on some beautiful clothes in a friendly, relaxed environment with people who won't judge you but advise you; help you but not bombard you; guide you but never make you feel uncomfortable. Nothing is too much trouble at Queen of Curves.

If you spent this morning looking in your wardrobe thinking 'I have nothing to wear' you know it's time to give Lisa a visit. "The coffee's always on!" she smiles.
Contact:
Lisa Jones
Proprieter
Queen of Curves
24 Beynon Road, 
The Parade,
Carshalton, 
SM5 3RL​
Tel: 020 8401 0506
Mob: 07872-346824
Email: info@curvyqueen.co.uk

Our social media:
Twitter: @CurviestQueen_
Instagram: CurviestQueen_
Facebook: Lisa Jones (Queen of Curves) 
www.curveyqueen.co.uk



Lisa Jones, Queen of Curves