Local Mums Online join human rights activists outside News International to protest against the objectification of women and girls in the UK press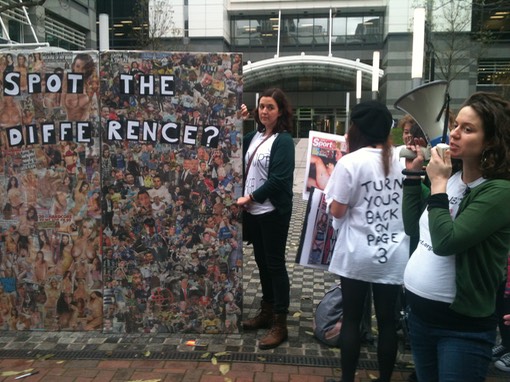 Saturday November 17, 2012
Local Mums Online joined a protest calling for an end to sexist misrepresentations of women in UK press outside News International headquarters today.
The protest was part of a wider ongoing campaign to end sexism in the Media. It was coordinated by women's rights organisation OBJECT, along with the No More Page 3 and Turn Your Back on Page 3 campaigns and UK Feminista.
Local Mums Online also joined the Anti-Page 3 Tea Party during the demo, who brought tea and cakes and dressed as British Institutions to highlight The Sun editor Dominic Mohan's claim that Page 3 is an innocuous British Institution.

Anna van Heeswijk, OBJECT's Grassroots Coordinator, said: "The images on Page 3 would not be broadcast on television, but they are in a national newspaper for anyone to read.
"It's about time we had some consistent regulation about this sexist portrayal of women.
"It is harmful to portray women as sexual objects. What message does Page 3 send out to our society and our children when these women are passive, naked objects?
"42 years of Page 3 sexism is 42 years too many."
Local Mums Online joined the protesters in signing a giant 'birthday card' to mark today's 42nd anniversary of Page 3.
Featuring pornographic images of women taken from two weeks' worth of tabloid journalism on one side and fully clothed men on the other with the phrase 'Spot the difference?', the campaign groups took the signed card to News International's headquarters to give to Dominic Mohan.
Speaking about her reasons for attending the protest, Sarah Morris, a founding member of Local Mums Online, said: "Page 3 is a national embarrassment and belongs in the sexist era of the 1970s. I don't want my children to grow up thinking this kind of misogyny and sexual objectification of girls and women is normal."
You can sign the No More Page 3 petition to ask Dominic Mohan to remove topless pictures of women on Page 3 here. 57,000 people have already signed the petition launched by Lucy Ann Holmes, including celebrities like Caitlin Moran, Eliza Doolittle, Lauren Laverne, Jeniffer Saunders and Chris Addison.
You can also join No More Page 3's Facebook Page here.
According to OBJECT's website, they hope today will mark "a national day of action against media sexism."
During the protest, Sophie Bennett, Campaigns and Policy Officer at OBJECT spoke to EastLondonLines: http://youtu.be/sINgb1jk_Ec