Local Mums recommend the best GP services in our area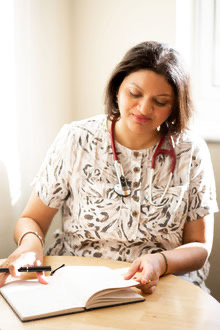 "I highly recommend Dr Hana Patel to Local Mums. I saw Dr Patel and I was delighted with the brilliant service I received. I am more than happy to add my voice to those that can't praise Dr Patel enough both for her professionalism and her quality of care. She has that something special that every doctor should have, plus a lot more. A+ service." 
Hayley Adams, Local Mum 
"I recommend Dr Hana Patel to Local Mums. I couldn't ask for more from a doctor. My baby was ill and doctor Hana explained the problem and how I could help my child get better. It took some time but I ONLY wish ALL doctors took the time and effort with their patients; the NHS would be an even better service."
Sara, Local Mum
"I highly recommend Dr Hana Patel to Local Mums. Dr Patel was very polite, reassuring and gentle in her approach. Couldn't have asked for anything more." 
Mrs J.T.


Dr Hana Patel Private GP
Dr. Hana Patel (MSc FRCGP MBBS BSc) is a private general practitioner in South London providing quick, convenient care for non-emergency illnesses and injuries. 
Call now and get a consultation: 020 8124 8124
Monday – Friday: 07:00am – 10:00pm
Saturday – Sunday: 08:00am – 08:00pm
About Dr. Hana Patel 
Dr. Hana Patel completed her medical training in 2005, qualifying from University College London and became a member of the Royal College of General Practitioners in 2010. She has additional post graduate qualifications in Family Planning, Women's Health, Elderly Medicine, ILM 5 Executive Business Coaching and Mentoring and a Masters degree in Medical Education.
Dr. Hana Patel has been providing her services as a Life Coach and Mentor to colleagues in the NHS for many years, and decided to use her skills to offer this highly-regulated and monitored service to all clients. Having personal infertility issues, and finding the resources and support related to this poor and unsupportive, this led her on the path of fertiity coaching and cementing her passion in Coaching. Using her skills Coaching and Mentoring NHS clients for many years, she is able to offer a broader and more holistic approach that only a general practitioner can in each indiviudalised and personal session. 
Contact:
Dr. Hana Patel (MSc FRCGP MBBS BSc)
Dr Hana Patel Private GP
Tel: 020 8124 8124
Email: drhanapatel@gmail.com
Dr Hana Patel on Instagram
www.drhanapatel.com