Local Mums recommend the best gymnastics classes in our area

"I highly recommend Future Gymnastics to Local Mums. Both of my daughters with different levels of ability enjoy gymnastics it and all the staff are great!" 
Sarah Conroy, Local Mum
"I recommend Future Gymnastics to Local Mums. My 3yr old had his first class today. There is a vast range of equipment and a great ratio of coaches to students. The coaches were really engaging and held his interest and he had nothing but good things to say when we left and is excited for his next class. There is a dedicated parents area so you can sit and watch the session but your children have the space to engage with the coaches. It is a highly organised gymnastic club and there is a high level of enthusiasm from all the coaches and they are genuinely personable."
Louise Upchuch, Local Mum

"I recommend Future Gymnastics to Local Mums. The confidence in which I have seen my daughter grow with is wonderful. All the coaches are very patient, allow the children to work towards their own individual limits."
Chel Bourke, Local Mum 
"I highly recommend Future Gymnastics to Local Mums. Brilliant gymnastics class and excellent end of year show! Finally a class both my daughters attend and love while keeping fit!" 
Hannah Rogers, Local Mum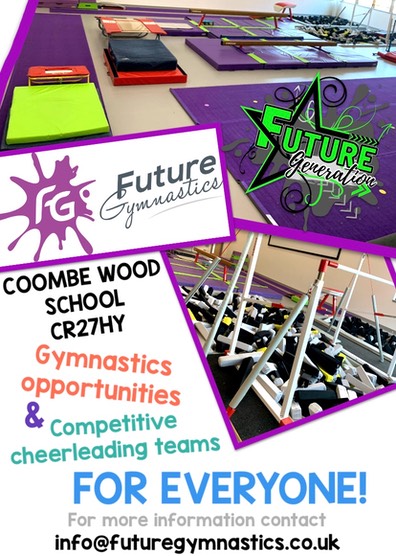 Future Gymnastics
Future Gymnastics is now open in Coombe Wood School! We run gymnastics classes for complete beginners age three upwards, as well as Development and Pro classes for our more advanced gymnasts. 
Our gymnastics club is very much a fun, relaxed and encouraging environment. Our coaches are young and relatable to the children and we encourage social skills as much as we do the gymnastics as we feel this is such an important part of joining a club. 
We run annual club competitions which is a fun and friendly competition where all gymnasts have the opportunity to take part in. The children learn about sportsmanship, whilst cheering on their peers and feeling a sense of achievement in a relaxed and encouraging environment with very little pressure. 
There are larger competition opportunities for our Pro gymnasts who are able to compete for our club in the London Region, and sometimes further afield like Disney Land! 
Future Gymnastics is the place for your family if you are looking for a gymnastics club with in a relaxed environment that encourages your child to be happy and thrive which we believe is the recipe for success and achieving their potentials. 
Contact:
Future Gymnastics
Tel: 07834 551296
Email: info@futuregymnastics.co.uk
www.futuregymnastics.co.uk