The health benefits of Olive Oil are well-known, from improving mental abilities to losing weight. But make sure you buy quality Oilve Oil - preferably straight from the farmers and producers.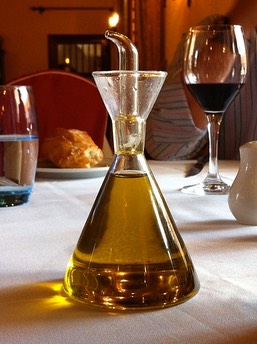 Olive Oil didn't used to be a part of British cuisine but it has become a common ingredient in many homes in the UK. In fact Olive Oil is now the most popular cooking oil in the country. 
The proliferation of news reports about the health benefits of Olive Oil have been key to its enthusiastic uptake but the influence of celebrity chefs like Nigella Lawson, Gordon Ramsay and Jamie Oliver (who once described Olive Oil as 'liquid gold') has been very important as well.
Edible vegetable oils, which are the ones extracted from plants, have been used for cooking and dressing dishes for centuries. It is common to find many different kinds of Vegetable Oils on the shelves of UK supermarkets - like Canola Oil, Sunflower Oil, Coconut Oil and Olive Oil. 
But why are some so much healthier than others?
Olive Oil has been proven to be healthier by numerous scientific studies. When it's fresh it is a source of antioxidants and unsaturated fats, which are responsible for raising good cholesterol levels. No other Vegetable Oil has such high levels of antioxidants, which help prevent cell ageing. 
Olive Oil has been attributed with reducing risk of heart disease, cancer, depression, dementia, diabetes, Alzheimer's and improving mental abilities, skin and reducing the signs of ageing.
Health benefits, taste benefits
It is a well-known fact that real, fresh Olive Oils have plenty of natural antioxidants and anti-inflammatory properties but for many people it is simply the delicious taste of quality Olive Oil that makes them use it again and again. 
"The taste of fresh, single estate Olive Oil is a real eye-opener for those who have never experienced it," says Javier Asensio, who imports Olive Oil straight from Spanish olive groves with his fair trade compay Fincalink. "But once you have sampled it, there's no going back!"
If you want to benefit from the amazing taste and health properties of delicious, fresh Olive Oil, it's important to buy pure, unadulterated Olive Oil straight from the producers like Fincalink. Supermarkets not only tamper with the quality of Olive Oil, they markup the product and pay the farmers unfairly. 
You can buy pure, highest quality Olive Oil at www.fincalink.com and get their delicious, healthy Olive Oil delivered straight to your door!
Fincalink is also offering Local Mums a 10% discount. Just add the voucher code LMO at the voucher field when checking out online. It's the perfect chance to sample this delicious fresh product for yourself!
Read Local Mums' reviews of Fincalink
For more information, or to place an order, contact: 
Javier Asensio
Fincalink
Tel: 01403 230192 
Mob: +44 75 34 92 66 92
Email: info@fincalink.com
www.fincalink.com