It might be easier to get in the car, wander around a supermarket – and even get your food delivered – but here our Local Food editor Tracy Carroll gives ten reasons why shopping for, and eating, food on your doorstep (though not literally of course!) can make a world of difference.

10 reasons to buy local food
1. Buy local food, buy fresher food
Cut out the middleman, the bundles of processing and the food miles – and local food tends to be fresher. Reigate farmer Caroline Davies, who hand makes ice-cream at her St Joan's Farm Dairy, in Leigh,  uses only milk and cream produced on the farm and pronounces it's 'From Cow to Freezer in Under 1 Hour'! "We could easily buy it in, but instead we milk in the morning and turn it into ice-cream by the afternoon," says Caroline. "Not many ice-cream producers can say that and we feel it makes for a much better product."
Ruth Lambert, who runs The Larder Farm Shop at The Medicine Garden in Cobham, agrees. "We buy in stock in smaller quantities so it's often fresher. The guy who supplies our chickens, for example, only keeps 50 so we have 10 to sell at Christmas. People say it reminds them of what things used to taste like. It's a lot less 'fiddled about' with."
2. Eat the view
While we might have got used to strawberries and asparagus all-year-round, getting back in touch with English food seasons can not only save food miles but money too; out of season fruit and veg is always more expensive. "Shopping for food in season gives you a better idea of your own regional identity," says Ruth at The Larder. "You can look around you and literally 'eat the view'!"
3. Support your local economy
It's said that for every £10 spent in an independent shop, £25 is generated for the local economy, so it pays to buy closer to home. Independent shops tend to invest more in their communities and are more likely to give to local charities and schools. "Shop and eat local produce and support local people," says Caroline, from St Joan's. "Don't support the large multinational companies that pay large bonus to their MDs!"
4. Local is greener
With green beans flown in from Kenya and apples from New Zealand, it's no wonder the multinationals can clock up a few air miles. According to the National Farmers' Retail & Markets Association (Farma), choosing to buy locally produced foods from a farm shop or farmers' market, for example, can help reduce the amount of carbon dioxide emissions associated with distribution by up to 99.8 per cent! Buy direct from the farm and you'll probably buy less unnecessary paper, cardboard and plastic wrapping too.
5. Say no to the clone!
None of us want to live in identikit cities, but multinationals and chains can strip away the unique character of the high street. Joanna Rowlands, who runs Two Many Cooks catering company in Brockham, Surrey, recently set up a café and shop in South Street, Dorking, which sells local, hand-ground coffee and bread from Chalk Hills Bakery among its many locally-sourced products. "Our high street will die out if little individual shops and businesses like ours disappear," she says. "Every city centre would look the same."
6. Enjoy more choice
Smaller shops which sell a wide range of products encourage competition and diversity and, according to the National Farmers' Retail & Markets Association (Farma), local producers selling direct at farmers' markets, through farm shops and pick-your-own, like to offer something different. So whether it's squirrel meat (really!), cheese such as Norbury Blue from a Surrey farm, rare-breed pork or freshly-dug potatoes huddled in local soil – local shops are much more likely to stock those unusual local delicacies.
7. Benefit from truly personal service
Local businesses are almost always passionate about what they do, are a font of knowledge about the products they sell and have staff who give one-to-one personal service (and remember to ask about that dinner party you were stressing about). "We really care about what our customers want," says Joanna at Two Many Cooks, Brockham, who runs a catering business and also a coffee Shop in South Street, Dorking. "Only last week, we dropped some food around to a customer's house and although it was no big deal, people really appreciate those extra touches."
8. Great value
A marketplace bulging with small businesses tends to create more innovation and low prices over the long-term. Independent research conducted by Deliciously Yorkshire, the regional food group for Yorkshire and Humber, found that vegetables such as baking potatoes and tomatoes cost about a third less, and leeks were on average 14 per cent less expensive at farm shops compared with supermarkets. Plus, if you add in travel to out of town shops and parking costs, or delivery fees, the cost can be much higher.
9. Meet the producers
"We know where everything comes from and have photos of the producers who created the food on the wall!" says Ruth at The Larder, a lovely farm shop at The Medicine Garden in Cobham. "What's more, local suppliers are often happy to come in and do tastings so people can often get a real flavour of what's on offer, and try before they buy." This is the best way to discover new foods and flavours, as you can be sure the person offering the tasting will be able to tell you not only where the product comes from and how it was made, but how best to use it. It's win-win, the local way.
10. Feel part of your community
It's much easier to play a part in local life and find out about Surrey's events, festivals and news and make friends with people in your neighbourhood if you shop in your own town or village. James Slayford, owner of The Running Horses, Mickleham, a 16th century coaching inn on Old London Road, agrees, and says if everyone ate and shopped remotely the sense of community would be lost. "When people stop going to their local pubs and shops they lose a little of their identity. Local inns are now few and far between and villages can disappear once these community hubs disappear."
Find out more about how Local Mums Online is supporting local food producers

Looking for local food and drink in Surrey? Find them near you at www.LocalFoodSurrey.com
Tracy Carroll, Local Food Editor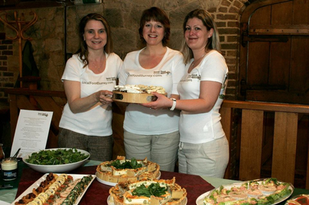 Tracy Carroll (centre) is a Reigate Mum of one teenage daughter and runs Local Food Surrey, a website all about enabling people to find great food and drink in Surrey. Tracy blogs for us about fantastic local food finds in our area.