Stitches Haberdashery offers sewing classes, workshops and parties for adults and children and is the perfect place to escape the bustling world outside while learning a new skill.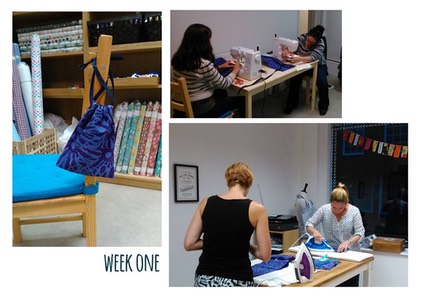 Stitches Haberdashery Stitches Haberdashery is a haven of peace in the heart of a busy community where you can learn new skills, or quietly get on with that unfinished project. It's also a great place to celebrate special occasions like children's birthdays. 
"Stitches is somewhere where you can come with a project you are working on and rent a sewing machine by the hour, seek advice or just browse the beautiful fabrics for inspiration," explains owner Sarah, who is a qualified secondary school teacher and has been teaching Textiles Technology for the past five years. "The Haberdashery is well stocked for all your crafting and sewing needs."
The fabrics stocked at Stitches range from printed polycottons, needle cord, chambray and denim, right up to 100% cotton quilting prints from Kauffman, Dashwood and Adorn It. They also carry general haberdashery items such as needles, pin, scissors, fabric pens and much more, along with a good selection of buttons, ribbons and trims. 
Stitches has an extensive range of classes from beginner level up to dressmaking and specialist crafts. "New courses and events are added all the time," says Sarah who has been working in textiles and education for many years. Sarah has made everything from wedding dresses, costumes for television and theatre, custom made quilts, cushions and children's toys.
Parties
Stiches is also available for hen parties, children's birthdays and any other celebration! "Special occasions can all be celebrated with craft!" says Sarah. "You can come to us or we can come to you."
So whether you are looking for some quiet time for your or your children to learn to sew, finish a project or celebrate a special occasion, why not give Sarah at Stitches a call?
Read Local Mums' reviews of Stitches Haberdashery
Contact:
Sarah Orru
Stitches Haberdashery 
Tel: 020 8661 6040
Email: info@stitcheshaberdashery.co.uk
Stitches Haberdashery on Facebook
www.stitcheshaberdashery.co.uk