Lara Burgess' business Big Softies Soft Play Hire fills a gap in the market for under-fours parties.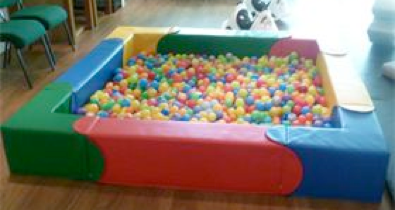 Parties for under-fours are famously stressful. How do you keep a room full of toddlers amused when their main aim seems to be to trash your house? You're wasting your money hiring an entertainer as it will usually go over their heads - and so will most of the objects in your house.

Lara Burgess's local business 'Big Softies Soft Play Hire' could be the answer. Her company hires out soft play equipment for any functions where little ones need to be entertained - in your own home or in a hired venue.

"Organising little ones' parties can be very stressful," agrees owner Lara Burgess. "The difficulty with under-fours is finding age-appropriate entertainment. Bouncy castles are usually too big and any type of entertainer would find it hard to hold their attention for long. Hiring Soft Play is easy and perfect for children's parties, christenings and weddings, in fact any occasion where little ones need entertaining."

Soft Play equipment has become popular among parents of babies and young children as it encourages imaginative and physical play and aids personal, social and emotional development. "As opposed to a bouncy castle, which is good for tiring older children out and having fun, younger children can interact safely with soft play equipment while exploring the shapes," explains Lara. Soft play is also accredited with building self-confidence and self-control.  

Lara got the idea for her company after struggling to organise entertainment for her own children. "On several occasions I've hired a hall and spent the morning transporting boxes of toys from home."

Big Softies Soft Play Hire deliver and collect the soft play free of charge in the Carshalton area. You can also hire it for various lengths of time to suit, which is easier and cheaper than hiring and erecting a bouncy castle for the day. "The children just love the soft play, and the parents are happy because the children are entertained and safe," explains Lara.
If you have a birthday party, Christening or other event coming up and are worried about how to keep small children amused, why not give Lara a call? 
Local Mums reviews of Big Softies Soft Play Hire.
For more details about Big Softies Soft Play Hire, contact Lara Burgess on 07949 412 264 or 01737 555916 to arrange a booking.
Email: laraburgess1@hotmail.com
www.bigsoftiessoftplayhire.vpweb.co.uk

This article was first published on www.carshaltonmums.com