Hugely popular Baby Sensory classes are now available in our area. Local Mum Lavinia explains why she loves the classes and is thrilled to be offering them to local families.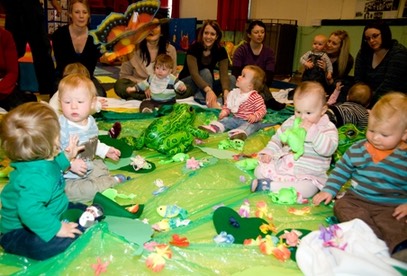 Baby Sensory's award-winning baby development classes are launching in Wimbledon and Merton - but make sure you book early. Baby Sensory is an extremely popular baby development activity and the advice from Local Mum Lavinia (who runs the class) is to sign up quickly as many classes in Surrey and SW London are already fully booked.
So popular
So why has Baby Sensory been such a sensation?
"Baby Sensory are award-winning and unique baby development classes, based on research and specifically designed for babies from birth to 13 months," explains Local Mum Lavinia who is launching Baby Sensory classes on Wimbledon and Merton. "The classes are so popular because they offer lots of exciting experiences to help your baby develop by stimulating their senses and are fun and sociable for mums too."
With an exciting new theme each week, the rich and varied sensory experiences and activities enable babies to develop in every possible way.The fun classes offer activities from fibre optic light shows to glowing bouncy balls, music and dance, bubbles, bells, rainbows, tickly feathers, puppets, silky scarves, water play and lots more. 
Fun for mums
"What's really exciting about Baby Sensory is that there are literally hundreds of simple activities that are fun to do with your baby," adds Lavinia, who has already held two successful taster sessions in Raynes Park Library. "Mums and their babies experience different sensory activities designed to support their baby's sensory development every week and you are welcome to join at any time." 
So if you are looking for a fun and stimulating activity to do with your baby that promises to be enjoyable for you too, why not call Lavinia and give Baby Sensory a try?
Read Local Mums Reviews of Baby Sensory and find out about promotions here
For more information, or to book your free taster session, contact:
Lavinia Burch,
Baby Sensory Wimbledon,
Tel: 07986 704024 
wimbledon@babysensory.co.uk 
Baby Sensory Wimbledon on Facebook