Granny Cornwall is missing her grandchildren coming to visit her in St Agnes so is recording some Storytimes for any local grandchildren missing their grandparents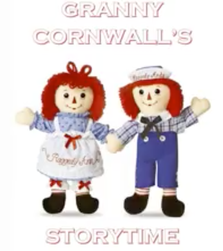 Raggedy Ann
Raggedy Ann is a character created by American writer Johnny Gruelle (1880–1938) that appeared in a series of books he wrote and illustrated for young children. Raggedy Ann is a rag doll with red yarn for hair and a triangle nose.

Granny Cornwall says: "My grandchildren love this old children's classic. I hope your children like her too…" 
Granny Cornwall's Storytime #4 Raggedy Ann and The Painter:

Granny Cornwall's Storytime #3 Raggedy Ann Rescues Fido:



Granny Cornwall's Storytime #2 Raggedy Ann and The Kite:


Granny Cornwall's Storytime #1 Raggedy Ann Learns A Lesson:


About Granny Cornwall
Granny Cornwall, aka Jackie Cotton, has two sons Symon and Jules and five grandchildren, Tom, Leo, Max, Hattie and Seth. Jackie loves her grandchildren coming to stay and is famous for her fun-packed holidays involving lots of activities especially surfing. She is also a Great Auntie to many nephews and nieces who love staying with her in the beautiful village of St Agnes on the North Coast where she lives with her husband, Grandad/Uncle Neil, originally from Wallington in South London. Jackie enjoys gardening, walking and voluntary work including Chair of St Agnes Cancer Research.