"As infamous and popular as ever"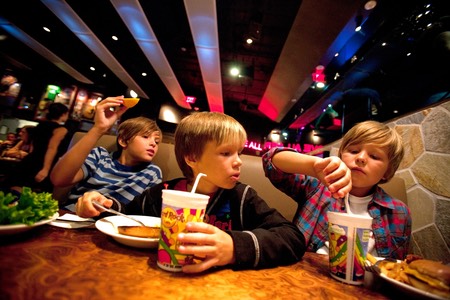 Hard Rock Café
150 Old Park Lane, London, W1K 1QZ
By Sarah Peters, Restaurants Editor
Judging from the massive (often rain-drenched!) queues that snake down Park Lane, the world renowned Hard Rock Café is as infamous and popular as ever.
Deal: The children's menu (£7.95) is cute with Cheesy Mac being one of the favourites: a huge, steamy plate of freshly prepared twisted macaroni in a creamy cheese sauce, served with crunchy garlic toast. Included is a drink but you can upgrade and have a thick chocolaty milkshake instead - a must!
Are they pleased to see you? Once you get in (please book in advance!), they are all charm and enthusiasm. The kids are made to feel like royalty; their menus handed over with a flourish and gleaming smiles.
Food: Classic burgers made with ravenous Americans in mind and mountainous salads that could feed a family of four! It's tasty, freshly prepared and expertly cooked.
Would a veggie starve? If you don't eat fish, you may have trouble as its very meat/burger focused, but there is a vegeburger option.
Facilities for the Kids: The Lil' Rockers Club (for under 10s) means the kids can apply for a card to flash and get a complimentary hot fudge sundae. They also get to keep their cool drinking cup.
Would you come again? Yes, off peak, it was too busy and manic.
Kids verdict - "It was funky and very noisy... Hard Rock Café ROCKS!"
www.hardrock.com 020 7514 1700