Reflexology is used to successfully treat a range of conditions in adults, babies and children. Local Mums recommend the best practioners in our area.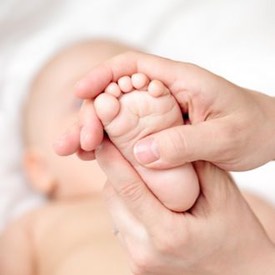 "I highly recommend HarmonyReflex to all Local Mums. I really enjoyed Nicki's baby reflexology workshop. I do try to give the treatment to my baby girl everyday, which works very much. Moreover, she loves it! I am so grateful to Nicki for teaching me this beautiful technique"  Mika K, Local Mum

"I recommend HarmonyReflex to Local Mums. I enjoyed the baby reflexology workshop with Nicki and my baby loved her too. I find baby reflexology much easier to keep doing than massage as I only have to take my baby's socks off and it takes only five minutes. Thanks to this baby reflexology, my baby survived a 12 hour flight recently! Isn't it wonderful that you can calm a baby down down or treat the popping ear with just a few minutes gently stroking of the baby's feet? I cannot thank Nicki enough! I'd love to do the toddler reflexology when my baby grows older!"
Yoko, Local Mum
"I highly recommend HarmonyReflex to all Local Mums. I saw Nicky at the end of my pregnancy and I truly cannot recommend her enough. Not only did I feel so relaxed I think I fell asleep in most of the sessions, I also left each one feeling a sense of calm similar to having a full day at a spa! I'm sure the treatments also helped me have a very straightforward and quick labour and birth. The postnatal treatments with the baby are such an amazing way to fully relax with your baby."
Vicki, Local Mum



What is Reflexology?
Reflexology is a holistic, natural, calming complementary therapy which is based on the principle the hands and feet are "mini-maps" of the body. Each organ, gland and structure is represented by its own reflex zone or point. It is safe and non-invasive; helps to maintain inner balance and wellbeing; helps eliminate toxins, revitalises energy levels, releases endorphins and helps to combat stress levels.
About Nicki
I originally trained in biochemistry and worked in research until I decided to have a family career break. It was at this point I became interested in reflexology as a complementary therapy suitable for all age groups. Following the completion of my reflexology diploma I trained with Baby reflex as a Baby reflex for babies and toddlers instructor. I also have further training in maternity reflexology and hot stone reflexology. 
Baby reflex for Babies and Toddlers
Baby reflex allows parents, grandparents or guardians to learn a fun and rewarding skill under the guidance of a fully trained reflexologist! It is fun and easy to learn and can be used anytime, anywhere!! It is taught in small bite sized chunks allowing parents to practise a routine before moving onto the next. 
Baby reflexology is suitable for babies from four weeks to 10 months of age and is performed on their feet. Once a child reaches 10 months old and becomes more mobile, Baby reflex for toddlers is then taught to parents incorporating nursery rhymes and lullabies to aid memory and engage their toddlers. Parents can also use Baby reflex for toddlers on their feet by transposing the toddler hand routine onto the feet. A baby or toddler reflexology workshop consists of three one hourly sessions covering the following topics: Week 1: Feeding and Digestion; Week 2: Sleeping and Calming; and Week 3: Wellbeing.
The benefits include helping with sleeping, calming, parent-child bonding, baby colic, baby reflux, supporting digestion, constipation, pain relief (e.g.teething), boosting immunity, wellbeing (sinuses, ears, eyes, nose, tonsils) and even a first aid point for insect stings. Further information about Baby reflex can be found at www.harmonyreflex.co.uk and www.babyreflex.co.uk.
Contact:
Nicola Housego-Woolgar, PhD, MAR.
HarmonyReflex
Tel: 07970-738424
Email: nicki.housego@gmail.com
www.harmonyreflex.co.uk
www.babyreflex.co.uk