A fantastic seasonal treat that's great for kids and adults. This recipe is from Local Mum and chef Laura Scott.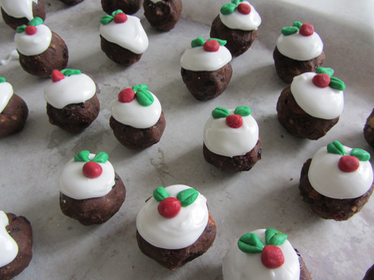 It's that time of year again when my younger daughter's school asks the children to show a talent or a skill to their teacher and classmates. This happens about once a term. Having gone through three years of it with my older daughter, you do get to a point when there is simply no skill that has been left unshown…..so what do you do?

Because my children are baking fans (especially Junior Bake Off on CBBC), I came to the conclusion we would all be better off by focussing on one skill, cooking/baking, and choosing to make something  together that she would then enjoy taking in to school to talk about.
We came up with a couple of winning recipes, but the one that I'm featuring here is also something that both children and adults would enjoy to eat.  The recipe for these Christmas Pudding Truffles  is adapted from Annabel Karmel's "Family Cookbook"  Magazine   (Winter & Christmas 2008). I used dried cranberries and currants to replace the glace cherries and raisins. My daughter always loves a recipe that involves melting chocolate and stirring in lots of little goodies and this  recipe fitted the bill as well as tasting indulgently decadent.
I will also be entering this into Violet Posy's "Thrifty Christmas",  a brilliant site to  visit for present making inspiration
Christmas Pudding Truffles 
Ingredients:- makes 24
For the truffles :~
125g dark chocolate
75g butter
200g madiera cake
50g dried cranberries 50g currants*
25g pecan nuts*
1/2tsp vanilla extract
2tbsp icing sugar
For decorating :~
Red and green ready to use fondant icing
110g icing sugar
1/2 tsp egg white powder
4tsp water
Method :~
For the truffles:~
Melt the chocolate and butter over simmering water
Set aside to cool slightly
Whizz the madiera cake into breadcrumbs
Add the cranberries, currants and pecans to the food processor and pulse the mixture about 6 times to chop up the fruit and nuts roughly
Put the crumb mixture into a bowl and add the melted chocoate mix 
Stir thoroughly and then refridgerate for about 1 hour 
Line a baking sheet with parchment 
Take a tablespoon of the mixture and roll it into a ball shape with your hands
Put the truffles in the fridge to set for another hour
For decorating
Shape your red and green fondant icing into holly leaves and berries for decoration
Put the icing sugar in a bowl and add the egg white powder 
Add half the water to make a stiff icing. Add the other half of the water in tiny drops if the mixture is too stiff
Put half a teaspoon of the icing on each truffle and spread it out a little
Allow this to dry before adding your holly leaf and berry shapes
Leave them to set in the fridge for at least 4 hours, or overnight


*If you are not keen on nuts, cranberries or currants, you could replace these with any dried fruit or nut mixture of your choice. Dried apricots, figs or dates would work. Flaked almonds, Brazil nuts or walnuts are some nut alternatives you may prefer to use.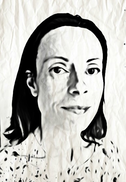 Laura Scott (above) is a Local Mum and trained chef who lived and worked in London up until she got married, had 3 children close together and moved out to Surrey. After a career break, Laura started her writing her food blog and is now working as a cookery tutor throughout Surrey (www.howtocookgoodfood.co.uk).

In her spare time, Laura attends to her newly appointed allotment with the aim of growing and producing seasonal fruit and vegetables.  This is the inspiration for her blog as well as a means of educating her children as to where food comes from and how it should taste.
Laura has also joined the Children's Food Campaign which is working towards improving both the food and the teaching of cookery in schools. She has also recently completed a course in healthy eating and nutrition as well as an RHS certificate in horticulture.  The two courses combine the two big passions in Laura's life, cooking and gardening.
Her inspiration comes from the use of good quality ingredients, seasonal when possible and the combination of flavours that work harmoniously together enabling their natural flavour to shine through.