Eaves and Alcoves is the perfect solution for your storage needs: a local company providing  high-quality bespoke property storage solutions in our local area.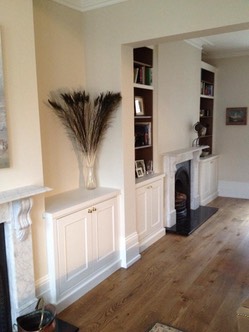 Eaves and Alcoves is a local company providing a bespoke joinery service to homes in need of storage.  "We set up this company with a strong belief in quality and in providing an honest, tidy, friendly and client-focused service," explains owner Stuart Singleton. 
Eaves and Alcoves build alcove units, wardrobes, shelving, eaves wardrobes, under stairs units, radiator covers and also offer a full decorating service. 
"We will happily design and recommend solutions for your storage problems," says Stuart. "We are experienced in creating efficient and effective use of what little or large spaces you have in your homes, in all nooks and crannies.  Because our service is bespoke to your needs and your home, anything is possible."
Amazing storage
Stuart's team are enthusiastic about interiors and are always excited to build that unit you need or turn your room from something tired with no storage, into a beautifully decorated room with amazing storage.  No need for floordrobes, clutter, or tired looking rooms! 
"We are happy to visit your home and give advice on how best to utilise your space and work together to come up with a solution," adds Stuart. "Our team is friendly, smart, polite and approachable. We never cut corners, compromise on quality and we are always respectful of your home and will always leave it clean and tidy."
So if you would like so solve your storage problems with some beautiful bespoke joinery why
not give Stuart a call? (All Local Mums receive a 5% discount, just quote Local Mums Online.)
Read Local Mums' reviews of Eaves and Alcoves
Contact:
Stuart Singleton
Eaves and Alcoves
Tel: 07944515771  
Eaves and Alcoves on Facebook
www.eavesandalcoves.com