If you love being creative and making unique works of art then ARt Workshops in Sutton is for you. It's also a fantastic place to relax and enjoy some quiet, adult time!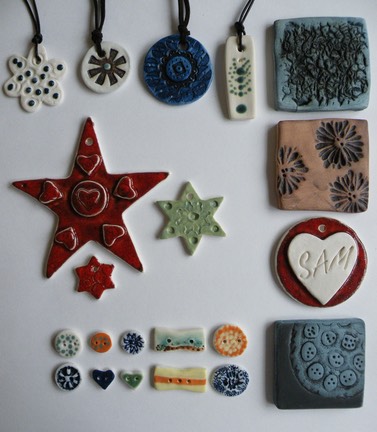 If you enjoy being creative and relish the chance to make craft items for yourself rather than just with your children, you will be pleased to hear about a new workshop designed with mums in mind.

ARt Workshops, run by local mum and teacher Adrienne Roberts, has recently started running clay workshops aimed at allowing some grown up creativity time. 
"Our new workshops promote a relaxed creative atmosphere," explains Adrienne, a ceramic artist and qualified art teacher.  "You can come and learn a new skill while making your own unique craft in clay."
Peaceful creativity
ARt Workshops was started five years ago by Adrienne who runs art workshops for all ages and abilities in schools, universities, galleries and community groups. 
Based in a peaceful log cabin studio in Sutton the workshops provide small groups with a high level of individual tuition. 
There is an opportunity to try out a variety of clay techniques with a choice of workshops which include decorative tiles workshop, personalised plaques workshop, sculpture workshop, buttons and jewellery workshop and Christmas decorations workshop.
Magical clay
"I use a wide variety of media in my art workshops and teaching," says Adrienne, "But I have particualrly enjoyed seeing many children and adults over the years discovering the magical properies of working with clay."
"I understand their delight at seeing how the surface can be changed to reflect different textures and mark making that they have made," adds Adrienne.
Creative treats
All the work done during the workshop is fired in the studio ready for your collection. Taster sessions are also available for those thinking of taking up pottery classes.
So if you like the idea of some quiet creativity in a peaceful log cabin, why not give Adrienne a call or visit her studio in Sutton. Why not bring a friend or treat someone to a workshop for a birthday or Christmas present with a difference?  
Workshops are on Mondays and Tuesdays, morning/afternoons or phone Adrienne for alternative times. Visit www.facebook.com/artworksinspire for examples of workshops.
Read Local Mums' reviews of ARt Workshops


For information or bookings please contact Adrienne Roberts at:
ARt Workshops
Tel: 07960 490 577
Email: adrienne.roberts@btopenworld.com
www.artworksinspire.com 
www.facebook.com/artworksinspire
www.twitter.com/artworksinspire