Great photos or treasured children's artwork can be made into stunning gifts or striking canvasses. Local company TagPrint Digital offer a fantastic personalised service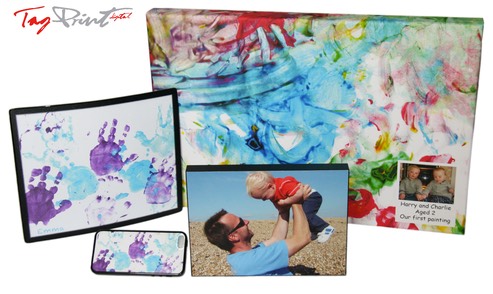 With over 35 years collective experience in Design and Print, local independent business TagPrint Digital was confident it could provide products and service second to none when it was set up from home last year.
Since then TagPrint Digital  has grown into a successful company providing stunning wall art and many other products from its customers' favourite photographs and pieces of children's art.
"We were very excited about this venture, but also nervous and scared," says Director Mike Wren. "But we knew we could make this a great success. Reliability and value for money are what we all want from any product or service offered and we knew we could provide this."
Fantastic products 
TagPrint Digital creates striking pieces of wall art from any photo or picture you send them. You can also come and meet them at one of their many local events and they will print while you wait.
TagPrint Digital does much more than provide fantastic products, it also give something back by contributing 10% of your net order value back to your child's school. So you get a great canvas and support your school at the same time.

As well as canvasses from photos and artwork, TagPrint Digital also creates E-cards - an easy way to reach all of your contacts, but with a personal touch. They can include your own photos and designs or company logo, signatures and give a contribution to a charity of your choice!
So if you are looking for something unique and personal, at a reasonable price, why not choose this great new independent company which gives something back to the community?
Read Local Mums reviews of TagPrint Digital
Contact:
TagPrint Digital Ltd
Tel: 0757 831 5982
E-mail: info@tagprint.co.uk
www.tagprint.co.uk