NHS GP, Local Mum and Founder of The London Wellness Clinic, Dr Jasmin Malek, blogs for us about everything to do with aesthetics and wellness.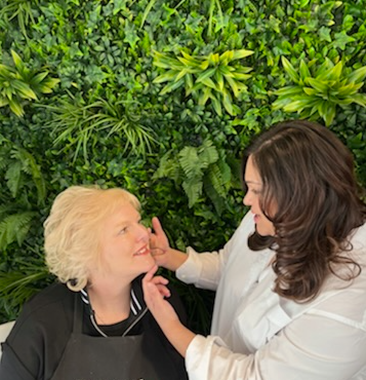 May 2023
Interview with local mum Cate
Hi Cate, how long had you been thinking about having an aesthetic treatment?
Hi Jasmin, I had been thinking about Botox for a couple of years. Ever since I noticed my wrinkles were getting worse! I became more interested in aesthetics as I saw so many adverts for Botox locally. I realised it wasn't just for film stars, lots of people must be having treatments in the local area!
What made you take the plunge and book a consultation with me?
After a lot of local research, when I read that you were a GP I knew you were the one I should go with. I'd seen lots of adverts for aesthetics with non-medically trained practitioners and I was very wary about having a procedure with them. I had also seen so many people with treatments that had gone wrong or just looked unnatural - not a look I was going for! I knew that if the worse case scenario happened and it looked awful, as a doctor you would be able to reverse it and treat me properly and safely. Then when I met you I really liked you; you seemed honest, caring and trustworthy. I was right!
What did you have done and what do you think of the results?
I had the full face rejuvenation a few months ago, which you advised. It's a combination of Botox and fillers. I'm really glad I did as I think the treatments work really well together. The fillers give structure to the face and the Botox improves the look of the skin. I've realised the practitioner's individual artistry and experience are so important, as you knew exactly what would look good. I'm amazed how long the treatments last too.
How do you feel since having the treatment?
I feel happier and more confident. The treatments look really natural so no-one noticed, which is exactly what I wanted. They just said I looked 'amazing' instead of 'tired'!
How was your experience at The London Wellness Clinic?
My experience was fantastic at the London Wellness Clinic. I felt very safe and relaxed and the proedures were comfortable and quick. I felt very cared for and the whole process was enjoyable. I was amazed how skilled you were, how precise and how much better my face looked. I can't recommend The London Wellness Clinic highly enough based on my experience.
Has the aesthetic journey you have been on challenged some of your previous ideas?
Yes it really has. Previoulsy I had preconceived ideas and was very ignorant about aesthetics and how they work. I was probably quite negative about it, thinking they were unnatural, risky and expensive. That view has completely changed. The results are much more subtle and natural than I thought, which makes me realise how many people do have treatments. They are much more cost effective than I thought. The effects last for months, so compared to say a new outfit you wear once, the cost per wear is tiny. 
What put you off having aesthetics previously?
I used to think aesthetics were bad because they're not natural, but neither is wearing make up or dying your hair! Also, compared to how much people spend on highlights, it's really not that different to having your hair done. At the end of the day, you're not permentantly changing yourself. If it's safe and you're with a trained practitioner, it's no different to having your highlights done and actually lasts a lot longer!

What would you say to someone who is thinking of having a treatment?
If you want the natural look go with a trained medical practitioner like Dr Jasmin. That way you can trust you won't look 'done,' nothing will go wrong and you are in completely safe hands.

A lot of people think aesthetic treatments are very expensive, what would you say? 
If you think how often you wear a new pair of shoes or a dress, work it out on a cost per wear basis. You always wear your face out! It's worth every penny for the way it makes you feel, which honestly is priceless...
Cate, thank you so much!

Contact:
Dr Jasmin Malek
Founder and Owner
The London Wellness Clinic
Tel/WhatsApp: 07934 139662
Email: dr.jasmin.malek@gmail.com
The London Wellness Clinic on Instagram
The London Wellness Clinic on Facebook
April 2023
Here are my 'Aesthetics FAQs' for Local Mums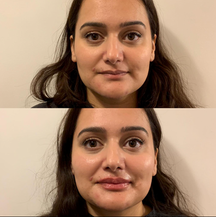 How long does botox last after treatment?
Usually 3-5 months. It depends on the individual; factors such as muscle strength and muscle size play a role in this. Strong and big muscles will overcome the effect of Botox quicker than smaller and weaker muscles. 
How long does the procedure take?
Approximately 15 minutes. The full effects can be appreciated after 10-14 days.
What happens when the effect of botox wears off?
Your expression lines will return gradually as the underlying muscle regains activity. Most people get repeat treatments every 3-4 months to maintain the effects of the Botox. It also improves the quality of the skin.
What are dermal fillers?
Dermal filler is a gel-like substance, containing hyaluronic acid, that is injected into certain areas of skin and tissues for the purpose of cosmetic improvement. Hyaluronic acid is naturally present in the body, therefore dermal filler is compatible for use in the body. Dermal fillers are used to sculpt, enhance, rejuvenate or lift the mid face, cheeks, lips, chin, improve the shape of the nose and fill hollows under the eyes/temples.
How long does it take to have fillers and how long does it last?
A single procedure takes a short amount of time, usually less than 30 minutes. If you have a combination of treatments, it will take a little longer, up to one hour. This is of course bespoke to the client and their requirements.  Fillers generally last from approximately  9 – 12 months. A thicker form of filler can last up to 18 months.
Is it painful?
Numbing cream (lidocaine) is applied before the procedure for 15-20 minutes, which helps minimise pain. Most people are able to tolerate the pain and often say it's less painful than they expected. Some areas can be more sensitive than others.  
Are dermal fillers reversible?
Yes. A substance called Hyalase can be used to dissolve hyaluronic-acid based dermal filler. This takes 1-2 days to achieve and makes everything as it was.
How do I know I'm suitable?
Book a consultation with Dr Jasmin to discuss your suitability, concern areas and your desired outcome.
Are dermal fillers safe?
As with any medical procedure there is a small risk of infection, bleeding, swelling and bruising, which settle within a few days. If dermal filler enters a blood vessel, it can cause an occlusion, which can lead to tissue death. It is therefore important to choose a medical professional, who has undergone rigorous training with advanced knowledge of anatomy and ensures strict infection control. 
Read Local Mums' reviews of The London Wellness Clinic

I am currently offering Local Mums members 50% discount off aesthetics treatments booked in April.
For more details and to book a treatment contact me on 07934 139662 quoting Local Mums' discount code Easter50. You can also book online at The London Wellness Clinic
Contact:
Dr Jasmin Malek
Founder and Owner
The London Wellness Clinic
Tel/WhatsApp: 07934 139662
Email: dr.jasmin.malek@gmail.com
The London Wellness Clinic on Instagram
The London Wellness Clinic on Facebook
March 2023

How I went from NHS GP to Aesthetics and Wellness Clinic Founder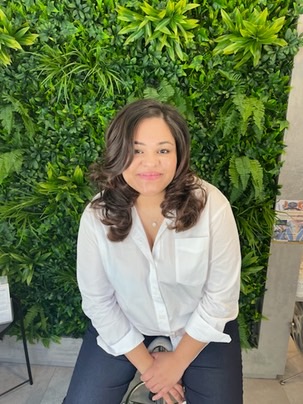 My journey as a doctor behan 12 years ago, in March 2011, when I sat my medical school final exams and in the Summer graduated from the esteemed Barts and The London Medical School. Prior to that I completed a BSc in Biomedical Sciences, graduating with a first class honours degree. As I launched into my junior doctor years, with enormous enthusiasm, I started on a journey consisting of many highs and lows. 
The buzz of night shift cardiac arrest calls, running down long corridors to resuscitate a patient who took a turn for the worst to the dangerous drives home after the adrenaline wears off. It's been a roller coaster to say the least. With the current junior doctor strikes looming, I fully and wholeheartedly support them, because I was them and endured the same. After all medicine was always a career where one puts their patient before oneself, right? The hallmark of altruism. Not just a job but a vocation. 
The realities of working as a GP
I became a GP in 2020, at the start of the pandemic, having given birth to two beautiful boys in the midst of sitting further exams and working full time. Needless to say, the chef, cleaner, mum and wife duties were all part and parcel of life, things I would turn my attention to after I switched off from Dr Malek mode. 
What a whirlwind it's been. The Covid-19 pandemic completely shook up the way GPs worked. With a turn to virtual or telephone consultation, it was the best we could do under the circumstances. There was no other way. I give everything I can to my patients. Yes, I'm that GP who runs late. But I am also that GP that deals with the three additional issues that get raised and consolidate medications and check investigation results. I do that 40 times for the 40 patients I see on a daily basis. No wonder, sometimes I burn out. 
In January 2022 I began work as a clinical lead GP, to help get a surgery back on its feet. To cut a long story very short, having experienced work place bullying, battled with an insurmountable work load, with 11pm finishes…I fell into a deep depression. I was exhausted. I did not see my children. My three year old's behaviour was getting worse. My husband dreaded collection time, because yet again he had done something bad. I lost three months of my life in a haze, whilst I recovered."
From burn out to clinic owner and helping local women
In Sept 2022, I felt a compulsion to take control of my life. I had a vision to create a Wellness Clinic, it felt like a nice idea, but the next few months saw a Jasmin rise up that I didn't know was in me. I felt fearless and motivated to be a doctor on my terms! This was the birth of a venture, I am so proud to call mine – The London Wellness Clinic. 
Aesthetic Medicine always fascinated me. I loved the hands on artistry involved. I also love making people feel happy. After much deliberation, I listened to the little voice inside and took the plunge to train. Having received distinctions in three out of four of my training courses held by Derma Medical, I felt confident to begin my aesthetic practice. I didn't waste any time because I knew I may forget the skills needed. I chose to work at a beauty and hair salon, that aligned with my personality and vibe – Sue Jane, in Horley. I am currently based on the 1st floor.
Loving what I do
I absolutely love doing aesthetics and feel so much satisfaction when I see patients' reactions to their treatments. There's something so magical about aesthetics. It takes a relatively short amount of time to do, there's minimal pain and side effects. The effects are instant in the case of dermal filler and there is zero downtime. Relative to plastic surgery, the cost is much less and very affordable. The happiness on my clients' faces shows me that aesthetic treatments are not for the superficial or ultra rich only. There's a deeper, more personal layer to the way aesthetics enhancements make people feel.  I feel its my job to de-bunk some of the myths and preconceptions of aesthetics. 
My hopes for the future with The London Wellness Clinic
I wish to develop more services and seek out more products which serve to promote greater wellness into people's lives. My vision is to make coaching more accessible to everyone and to be someone who can lend a helping hand in times of hardship or challenge. I wish to also incorporate an art club into my clinic, as I believe art is an amazing way of relaxing and calming an overactive brain. 
The last 12 years have been the best of my life and I am thankful for the hard times, for the strength they have given me and because they have paved the way to me being where I am today: Happy...
Read Local Mums' reviews of The London Wellness Clinic

Contact:
Dr Jasmin Malek
Founder and Owner
The London Wellness Clinic
Tel/WhatsApp: 07934 139662
Email: dr.jasmin.malek@gmail.com
The London Wellness Clinic on Instagram
The London Wellness Clinic on Facebook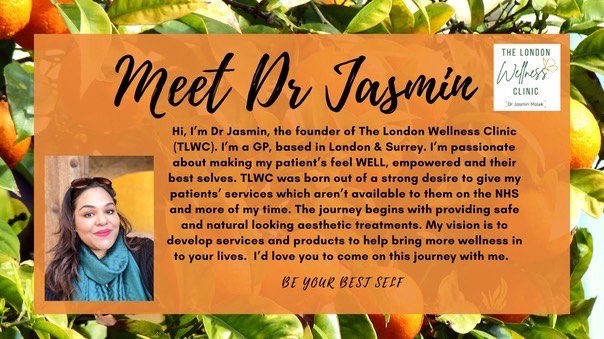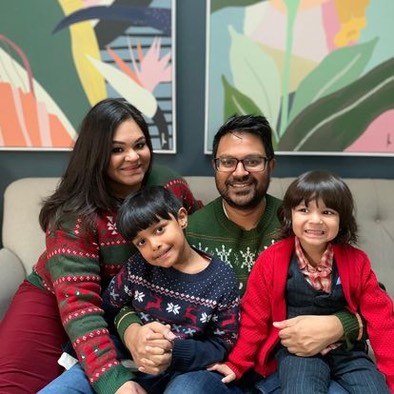 Dr Jasmin with her family