"Prides itself on welcoming children"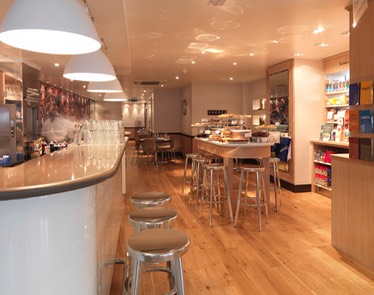 Carluccio's
25 High Street ,Wimbledon, SW19 5DX
By Sarah Peters, Restaurants Editor
Are they pleased to see us?
Carluccio's prides itself on welcoming children and the Maitre d' and all the waiters certainly made a fuss of our brood. At Sunday lunch the place is crawling (literally!) with children. Within seconds of taking our seats, a colouring pack, menu and bread-sticks are planted in quick succession in our eager little hands and the children's first course arrived within minutes – which means the rest of us can relax.
Deal:
Children's menu (£6.25) includes bread-sticks, a drink and two courses.
Food:
The kids' steaming bowls of spaghetti and tomato sauce were polished-off in a flash and once the red sauce was wiped off their faces tiny tubs of Carluccio's own-brand chocolate gelati were devoured amidst huge grins of nods of approval.
Would a veggie starve?
No, lots of vegetarian pasta and the Risotto Del Giorno is always fresh and tasty.
Facilities for the Kids:
Activity pack with posh branded pencils and good quality colouring pages.
Would you come again?
Yes. Loved the atmosphere and quality of food. Eating in Carluccio's is the next best thing to dining in Italy! Parking is dreadful, lots of meters and smug looking parking attendants but after 6pm its easier.
Kids verdict:
"Best ice-cream in the world. The waitress was really pretty."
020 8946 1202, www.carluccios.com