Spanish is the perfect language for your child to start at a young age. Hola Spanish Lessons is launching a fun, interactive Saturday club for children in our area 
Spanish Club for children
If you want your child to start learning a new language, Spanish is ideal. Hola Spanish Lessons accept children from five years old, which is the perfect age for them to learn a new language because at this stage in their development they absorb information very quickly.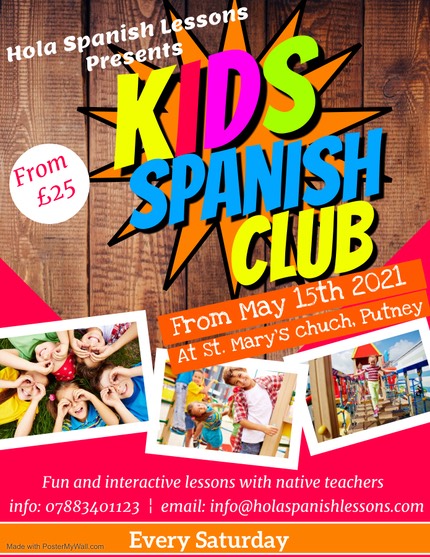 If your children are at school and struggling to learn Spanish, Hola Spanish Lessons can help with:
Colours, animals.
Gender of nouns.
Plural forms of nouns.
Definite and indefinite articles.
Numbers, alphabet, days of the week, months, etc.
Pronouns.
Common expressions and more.

Hola Spanish Lessons will teach your child using lots of fun activities, such as videos, songs, games, flashcards, quizzes, etc., from kindergarten to primary school levels.
Saturday club:
10am -11.30am (more time slots available depending on demand)
St Mary's Church
Putney High Street
SW15

Local Mums Discount
Local Mums receive 5% off the 10 sessions package with the code LOCALMUMS01, plus a 10% for all on the 20 session package.

We also run online courses and courses for adults.
Read Local Mums' reviews of Hola Spanish Lessons
Contact:
Elizabeth Colina
Hola Spanish Lessons
Tel: 07883 401123
Email: info@holaspanishlessons.com
Facebook: Hola Spanish Lessons
Instagram @holaspanishlessonsuk
www.holaspanishlessons.com