Karen Simmonds is a Local Mum who runs the family travel website Travel Matters. Here she gives her top tips for holidays with children

Stress free travel tips on holiday 
That old motto "be prepared" never had so much relevance when travelling on holiday as a family. It has its challenges, but some tricks and planning can smooth the way. So I have put together some tips and advice to help you keep everyone's face smiling.
Before you pack
What kind of holiday will it be?
Casual self catering?
A hotel?
A touring holiday?
Hot, rainy, cold?
This will dictate what type of clothes you'll all need and whether you'll need a separate overnight bag.
How will you travel?
Luggage restrictions vary by airline so do check yours. The type of luggage you use can make a huge difference too. Obviously you can fit much more in your car compared to the luggage restrictions of the airline.
Write yourself a list
Forward thinking…check the passports are all in date at least 8 weeks before you travel so you have time to replace them if not. Check you have valid personal travel insurance as well as for your car if taking it abroad. Check your visa requirements for the country you are visiting.
What to pack?
Children's/ Toddlers travel bag
Favourite toys, colouring books and pencils
Travel games and books
Favourite comforters
Drinks and snacks. Please note: you will need to purchase your liquids after customs if travelling by plane
Your toddlers snacks – Raisins, breadsticks, dried fruits, grapes, or dried cereals
First Aid Kit – including insect repellent/ bite and sting relief product
Sun cream
Cull the clothes…bring easy-to-wash, non-iron items, versatile colours and accessories to 'dress up'. For the kids, bear in mind what they'll spend most time in and be prepared to rinse things through if necessary.
Hire when you can. Can you hire a car seat, is a cot provided, are home-cooked kids meals or a baby pack of nappies, wipes, etc available?
These days there are many commercial products that can help keep the children amused: from classic board games in travel forms, to the latest apps and electronics. We hope to give you some simpler ideas for fun stuff during car rides or plane journeys for several age groups.
Travelling with children
Sometimes the simplest things can delight a baby (at least for a few minutes) such as a couple of pieces of large lego that can be pieced together or a few magnetic stick-together blocks. Even a safe little plastic mirror can entertain. Other simple, inexpensive, and easy to bring along items are:
Bubbles (use them in airport, during spare hours between flights)
Balls (for rest areas during car trips)
Travelling with young & older children
This is a great age for picture books, stickers and activity books.
Wrapped up presents or snacks – double or triple – wrapped. It's the unwrapping which is the fun part.
Watching a DVD in cars can while the hours away nicely, but give a thought also to audio books, and especially to listening to the audio book together, through your car sound system: so the kids aren't glued to yet-another screen, there is still a shared experience of watching the landscape outside the car; meanwhile the children use their mind's eye to picture the story, and the whole family shares the story experience together.
Also for older children, look for the latest card-based games or puzzle games that are perfect to take along on a trip. Travel-sized board games are great as well.
There's a new trend in family travel: the great escapes that aren't. Our holidays these days are not always the real escape. The mobile phone, BlackBerry or iPhone, the laptop come with us and keep us constantly connected to the world we are escaping from. Calls from work, a catch up with friends, checking email "just a minute". This is the one major hiccup that is going to irritate the other half or the family. As with any addiction, it's tough to leave it. We are getting used to constantly getting messages. In some workplaces, there's an expectation that you should answer every email within ten minutes, wherever you are. (If that's your culture, and you're reading this advice – it may be time for some re-thinking of lifestyle).
Most of us, however, will bring the device along, and tell ourselves we can handle it. Sound familiar? A piece of advice -
1. Do not feel obliged to answer email, especially during the times of the day when you're with your family – playing, eating, talking, tucking into bed.
2. If you need to check email, do it when the children are asleep, or playing with others.
How many years will your children want to spend time on holiday with you so happily? You can't afford to waste your time together. Children are brilliant at living in the present. So when you're on holiday, join them.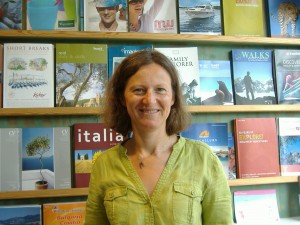 Travel Matters was Karen's (above) first baby fifteen years ago. She has always enjoyed organising the perfect family holiday. Since then, she juggles travel and family life, with the arrivals of Alice, aged 11 and Elsie, aged 8. Her experience is wide and varied including taking old people around Europe with Page and Moy, hosting double-decker bus tours with Top Deck travel and running her own tour operating programme in Portugal. She can also be found slipping from English into fluent French, German or Portuguese, often helping in those tricky hotel booking negotiations! The last couple of years she has visited Thailand, South Africa, Mexico, Cyprus, France, Eygpt and five Caribbean islands.
Mention Local Mums Online when contacting Travel Matters to receive information of current discounts and offers.
Contact Karen:
Tel: 020 8675 7878
Email: info@travelmatters.co.uk