Reflexology is well known for treating all sorts of conditions in adults but did you you know it is a great treatment for babies and toddlers too? Local Mum and reflexologist Nicki tells us more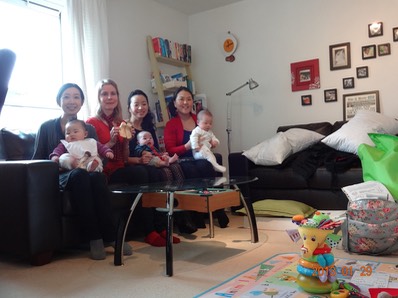 Reflexology is a well-known holistic, natural, calming complementary therapy based on the principle that the hands and feet are "mini-maps" of the body. Each organ, gland and structure is represented by its own reflex zone or point. It is safe and non-invasive. It is believed to help maintain inner balance and wellbeing, eliminate toxins, revitalise energy levels, release endorphins and combat stress levels.
Not so many people know that reflexology can also be used with babies and toddlers. "Baby reflex allows parents, grandparents or guardians to learn a fun and rewarding skill under the guidance of a fully trained reflexologist,"  explains Local Mum Nicki, who runs her own reflexology business HarmonyReflex.
Suitable for all ages
"It is fun and easy to learn and can be used anytime, anywhere!" says Nicki. "It is taught in small bite-sized chunks allowing parents to practise a routine before moving onto the next."
Nicki originally trained in biochemistry and worked in research until she decided to have a family career break. It was at this point that she became interested in reflexology as a complementary therapy suitable for all age groups. 
"Following the completion of my reflexology diploma I trained with Baby reflex as a Baby reflex for babies and toddlers instructor," says Nicki. "I also have further training in maternity reflexology and hot stone reflexology."
Baby reflex for babies and toddlers
"Baby reflexology is suitable for babies from four weeks to 10 months of age and is performed on their feet,"  explains Nicki. "Once a child reaches 10 months old and becomes more mobile, Baby reflex for toddlers is then taught to parents incorporating nursery rhymes and lullabies to aid memory and engage their toddlers."
Parents can also use Baby reflex for toddlers on their feet by transposing the toddler hand routine onto the feet. A baby or toddler reflexology workshop consists of three one hourly sessions covering the following topics: Week 1: Feeding and Digestion; Week 2: Sleeping and Calming; and Week 3: Wellbeing.
"The benefits include helping with sleeping, calming, parent-child bonding, baby colic, baby reflux, supporting digestion, constipation, pain relief (e.g.teething), boosting immunity, wellbeing (sinuses, ears, eyes, nose, tonsils) and even a first aid point for insect stings," adds Nicki.
So if you would like to find out about the many benefits of reflexology for you, your baby or toddler with a qualified Local Mum, why not give Nicki a call?  
Read Local Mums reviews of Harmony Reflex
Contact:
Nicola Housego-Woolgar, PhD, MAR.
HarmonyReflex
Email: nicki.housego@gmail.com
www.harmonyreflex.co.uk
www.babyreflex.co.uk
Tel: 07970-738424