If you are looking for a fantastic local day out with tons of things to do in the great outdoors, The Discover Walk at Priory Farm is perfect - and it's a great party venue too!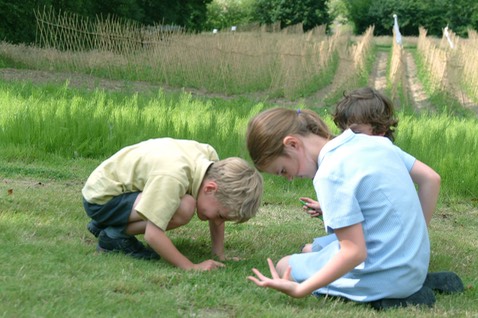 The Discovery Walk at Priory Farm is a fabulous day out and party venue for families who enjoy the simple pleasures in life – and lots of fresh air! 
The Walk is a mile long and is located on acres of farmland on the stunningly beautiful Nutfield Ridge near Redhill.  There are two nature trails. One is picture-based (counting, recognising colours and simple deductions such as identifying a well-known animal), so perfect for pre-schoolers. The other quiz is for older children, up to around 12, and requires them to find information by either reading the jauntily written signs or running around gathering "extra action" clues. 

There's plenty to see and do, from chickens and guinea fowl to scarecrows and bugs.  Little hidey holes have been provided for the kids to squeeze into and there's a labyrinth for balancing and scrambling. Gongs are there for clanging, giant steps for striding and plenty of space for running.
Don't miss:
The little bridge with a bell which you ring to summon the fish for feeding. It's incredible! The water comes alive with swishing tails and fins and the kids love throwing in the food (which you buy for £1 a bag when you purchase your tickets).  There are ducks and other water fowl as well.
Holiday activities
Throughout August, kids' activities are run on Wednesday afternoons and there are tractor rides on Thursday afternoons. There's also a sporting trail on the Walk over the summer holidays. Check website for full info and timings
Unique Party Venue
The Discovery Walk is brilliant for parties – all that space is fantastic for energetic youngsters! Ring Ian on 07711 146566 to chat through what you have in mind, as each party is individually planned.
Open daily, £2.25, £1 for special Sporting Trail that runs 13 July to September 8.
Buggy info: the tracks are fine for all-terrain buggies unless it has been very wet. There is a gentle hill but well worth the walk as the views are stunning. Drinks, ices and snacks are available at the cabin near the entrance and there's a farm shop/butchers on site selling lots of local goodies.

Read Local Mums' reviews of The Discovery Walk
Contact: 
Ian Ford
Discovery Walk,
Priory Farm,
Sandy Lane,
Nutfield,
Surrey
RH1 4EJ
Tel: 07711 146566 
Email: ian@prioryfarm.co.uk
www.PrioryFarm.co.uk