Local Mums recommend the best baby sign langauge classes in our area

"I highly recommend Tiny Talk Banstead, Epsom and Kingswood to Local Mums. My 10 month old daughter and I love this class. We started when she was eight months old and even got Nanny involved for when I go back to work. The class is full of fun and provides a great environment in which to both learn and socialise. It's great for mums and babies to socialise and other members of the family are also welcomed. I am really going to miss the class when I go back to work; lucky Nanny can step in for me."
Sarah, Local Mum
"I recommend Tiny Talk Banstead, Epsom and Kingswood to Local Mums. Both myself and my daughter love this class. We are learning so much together and having a lot of fun. The teacher is lovely and there is a great bunch of people that go along."
Natalie Ann Robertson, Local Mum
"I highly recommend Tiny Talk Banstead, Epsom and Kingswood to Local Mums. This is our favourite class of the week! It's interactive for the little ones, but at the same time not a sensory overload.  They (and Mums) get to learn many different nursery rhymes and associated signs. Also a great opportunity to meet other new Mum's and relax with a drink! I'd definitely recommend this to my friends."
Claire, Local Mum
"I recommend Tiny Talk Banstead, Epsom and Kingswood to Local Mums. My seven month old son and I attend the Banstead class on a Monday. We both love the class. He is so happy throughout and loves interacting with the other babies. The signing is not only fun for him but me too. I do the signing at home too to encourage him to learn them. At the end we all have a hot drink and the parents get to chat and socialise while the babies play together. The classes are also very reasonably priced."
Becky, Local Mum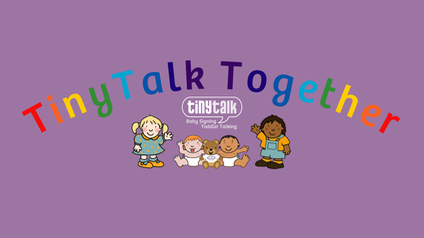 Tiny Talk Banstead, Epsom and Kingswood

Hello my name is Abigail Scott and I teach TinyTalk classes in Epsom, Banstead and the Kingswood area. I have a gorgeous TinyTalker of my own, Myles and have just finished maternity leave with my second.
When I became a new mum, I looked for baby and toddler classes, to find there wasn't much in the area. Music and singing plays a huge influence on me and my family lives. That's when I got thinking, and with not much persuasion from my family and friends, I knew wanted to do something that I love within the community, hoping give back some of the skills I've learnt over the years to other families. I want to bring that same joy I see in Myles' face when we are singing to other families too. That's when I found Tiny Talk, I took Myles to a few classes and we loved them right from the start.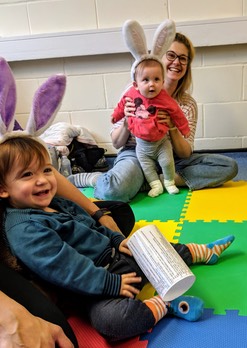 Communication is key
Communication is such a key skill and it's never too early to learn. Many mums and dads don't realise how eager their little ones want to communicate with them. Right from birth, they are full of things they want to tell you. This is where baby signing with TinyTalk can help.
You can bring your baby to TinyTalk signing lessons from birth. The stimulating environment and social aspect of each class will appeal to all newborns.
Each TinyTalk signing class is about an hour long, starting with 30 minutes of signing and singing nursery rhymes, and then 30 minutes of social time. You'll get refreshments whilst your child can play and socialise with other children. This is a great way for you to bond with your baby as well as meet like-minded parents and carers.
If you have any questions, please contact me below. I look forward to meeting you and your little one soon!
Book your little one's class here

Find out more about Tiny Talk classes
Contact:
Abigail Scott
Tiny Talk Banstead, Epsom and Kingswood
Tel: 07854665424
Email: abigailscott@tinytalk.co.uk
www.tinytalk.co.uk/abigailscott
www.tinytalk.co.uk