We first mentioned Baby Sensory classes when they launched this time last year. Since then their success has been phenomenal. If you haven't tried them yet make sure you sign up now!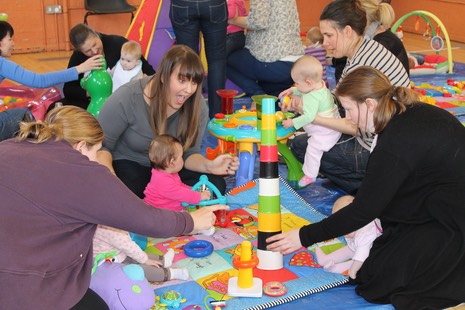 Baby Sensory, one of the most popular baby classes on our doorstep, celebrates a year since opening this month. Babies from just a few weeks to over a year old attend these award-winning baby development classes in Carshalton, Banstead or North Cheam. Several have just completed the whole year of different lessons!

Sarah and her daughter Amber have been in the class in Carshalton for the whole year. Sarah said: "I wanted to find a class that was aimed specifically at babies. I went for a taster class, loved it and signed up then and there. The classes are fab and we are still going strong! I have also met some great friends so we are winners all round."
Developmental benefits
Activities in Baby Sensory classes include baby signing, playing musical instruments, exercise, puzzles and light shows. Over 160 babies attend the local classes and Jo Jacobs, who runs them says: "The classes are popular because the activities are really varied and we have different lessons for a whole year. I explain the developmental benefit of an activity and this will often be different for the 4-week-olds compared to the 12-month-olds but the most important thing is for everyone to have fun."
Parents also enjoy the chance to chat as everyone goes to the exploratory play area halfway through the hour-long class so babies can play or relax and parents can catch up.
The classes also provide parents with hundreds of ideas for activities that they can do with their babies at home. Baby signing, for example, is a great way to develop speech and language; movement activities can help with the development of sight and hand-eye co-ordination, which is so important for later reading and writing.
Sarah thinks the classes have done a great job in boosting her daughter's confidence. "Amber was painfully shy when we started so I was keen for her to be around new people and the classes have been great for her confidence. As the months have passed she has gone from sitting on my lap not wanting to leave me, to crawling off with her new friends and helping herself to the equipment!"
Fun for mums too
Many babies stay in the class for several terms and parents are often sad to finish the lessons. Recent comments Jo has received from local mums include: "We loved Baby Sensory and will miss you and the class a lot, thank you so much for all the lovely discovery time you gave me with Freddie" and "Finley and I really miss our baby sensory classes. It was, by far, Finley's most favourite class (and mine too)."
The classes run in 10-week blocks and have been full since launching. In Carshalton three classes run on Fridays on Ruskin Road (10am, 11.30am and 1pm). Classes also run in Banstead on Thursdays (10 am, 11.30am and 1pm) and North Cheam on Tuesdays (10am and 11.30am). Anyone can attend a free taster and join the class at any time providing there are spaces. Baby Sensory also runs first birthday parties.
More information and other Carshalton Mums' reviews of Baby Sensory classes

To book a FREE taster class contact Theo at: sutton@babysensory.co.uk or call/text 07912 518905. There is also a Facebook page for updates: http://www.facebook.com/babysensorysutton.

This article was first published on www.carshaltonmums.com