Working when you want to, around your children, while having fun is a great way to earn extra money for you and your family. Here Local Mums recommend opportunities they have tried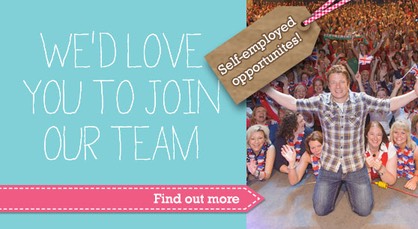 "I would like to recommend Jamie at Home to all Local Mums. Jamie at Home has opened up so many amazing opportunities for me. I work with a great team of people, and I'm rewarded for my hard work every step of the way. In June 2012, I qualified for a five-star trip to Arizona. Not a bad reward for doing a job you love."
Sue Heyland, Local Mum
"I highly recommend Jamie at Home to all Local Mums.  Jamie at Home fits perfectly around my family. It's totally flexible, fun and rewarding. I joined Jamie at Home three years ago and druing this time, I've been to lots of events and earned a trip to St Lucia. It's an amazing business to be part of and always very exciting"
Tracey Anderson, Local Mum
"I recommend Jamie at Home to all Local Mums. I started working this way 26 years ago when I had three young boys. I wanted to be home for them, but I also wanted to do something for myself. I wasn't convinced I would like working party plan, but I got hooked very quickly. I love being with people and I like talking about products that I personally like. I would have never thought I would still be in party plan 26 years later. While my sons are now grown up men, I have grandchildren and I want to be flexible so that I can play with them. Women need and want to work, but they also need total flexibility so that they can look after their homes and children. I encourage every women to just tip your toes in the water and see if you like this. If you do great, if you don't that is also okay."
Dolly Loth, Local Mum and Area Manager for Jamie at Home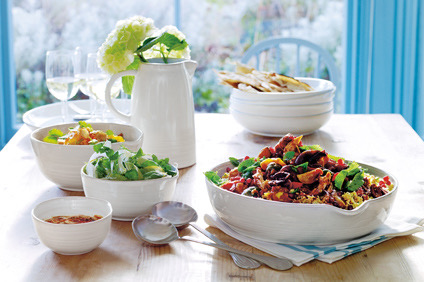 Jamie at Home
Jamie at Home, the party plan business started by Jamie Oliver, has grown into the most incredible business since it launched in March 2009
The people who have joined us so far are going from strength to strength, and having a brilliant time while earning money.
The JME products are selected by Jamie Oliver, in collaboration with talented designers and artisans from around the world.
The collection offers products that are stylish yet functional with a relaxed approach to eating,entertaining and enjoying life.
The opportunites are for either earning a few hundred pounds per month, or replacing an income.
The start up costs are low and affordable, with full support and Free training.
Flexible time working the hours that suit you.
Keep your financial independence, replace your lost Child Benefit, have fun!
If you are enthusiastic, like people, and have a desire to do something that fits in with your family why not join us for coffee and find out more about Jamie at Home:
4th March, 10.30am, Chalk Hill Bakery, Bell St. Reigate
5th March, 10.30am, Urban Kitchen, Priory Park, Reigate
7th March, 10.30am, Jamie's Italian, Guildford
11th March, 10.30am, Coffee Shop, The Maltings, Farnham
14th March, 10.30am, Nonsuch Park Cafe
15th March, 10.30am, Costa Coffee, Esher


For more information, contact:
Dolly Loth,
Area Manager
Jamie at Home
Tel: 017 37 244 980 
Email: dollyloth@me.com
www.jamieathome.com