Local Mums recommend the best singing teachers and voice coaches in our area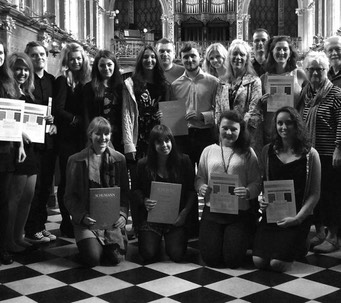 "I highly recommend Lizzie Byrne to all Local Mums. Lizzie is an inspiration to young singers. She has a professional career as a singer but also is a gifted and motivational teacher. Lessons with Lizzie are always fun and she never fails to teach her students to love the music that they sing."
Karen Phillips, Head of Music, Farnborough Hill School
"I recommend Lizzie Byrne to Local Mums. Lizzie taught a considerable number of singers at Homerton and she was always able to get the very best out of them, to inspire them technically and artistically, and to promote their sheer enjoyment of music. Lizzie has an exceptionally wide range of musical sympathies and so it was always possible for her to engage with the students in their own preferred style and idiom."
John Hopkins, Director of Undergraduate Studies, Faculty of Music, University of Cambridge
Lizzie Byrne, singing teacher and voice coach.
Lizzie Byrne is an enthusiastic and imaginative voice teacher and coach, with the ability to build confidence and motivate students. With 25 years teaching experience, she has worked extensively with all ages, abilities, technical problems and styles and has an excellent knowledge of both classical and musical theatre repertoire.
Lizzie has prepared students for ABRSM and Trinity College singing exams Grades 1 to Diploma with 100% pass rate and many students have gone on to further study including courses at The Royal Academy of Music, The Royal College of Music, The Royal Northern College of Music and The Birmingham Conservatoire.
Looking for a first rate singing teacher for your child? I have some spaces available this term. 25 years' experience of teaching Grade 1 to diploma with 100% pass rate. For more information visit www.classicalsingingteacher.co.uk 
Contact:
Lizzie Byrne
Tel: 07977 540547
Email: lizzie@classicalsingingteacher.co.uk
www.classicalsingingteacher.co.uk