Dodgeball is a great way to get fit while having fun and perfect for children's parties. Local Mums recommend the best dodgeball sessions and parties in our area.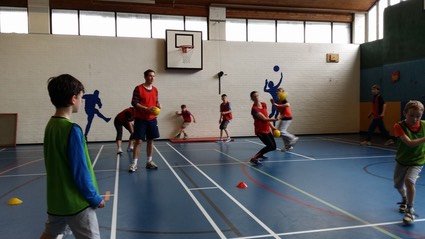 "I highly recommend WhizzFit dodgeball parties to all Local Mums. My son said his dodgeball party was his favourite party ever and the 10 other screaming and cheering 8 and 9 year olds agreed too. Angus was the most energetic party entertainer I've ever seen, putting them all through their paces with every child equally involved – and he helped round them up and calm them down at just the right times. A great party!"
Julie, Local Mum 
"I recommend WhizzFit dodgeball parties to Local Mums. Darren and Miles were very organised, kept the sessions fun and the children under control. The highlight was the final children against adults match when they didn't mind to be at the receiving end! The two hours went by very quickly and I think the kids would have played on for more. An absolutely perfect party for a bunch of active 10 year olds!"
 Imke, Local Mum



WhizzFit
Where the focus is all about having fun, being active and meeting new people. WhizzFit offer a range of classes and party packages to suit all ages and fitness abilities. At WhizzFit you will have so much fun you won't even realise you're exercising. We offer families the opportunity to bond and keep fit together.  
WhizzFit run two weekly fun Dodgeball sessions for both children and adults. The objective of the game is to hit opposing team players with a foam ball and dodge any oncoming balls. Don't worry – it's a non-contact game, the balls are really soft and won't hurt you on impact. WhizzFit have recently added on a water bomb package to their ever so successful Dodgeball parties, your children will have an experience they will never forget. 
Give the WhizzFit team a call to find out more. 
Contact:
Angus Effemy
WhizzFit
Tel: 07960683199
Email: anguseffemey@live.com
www.whizzfit.com