Sutton has agreed to add 210 primary school places to its capacity as demand continues to rise across the Borough.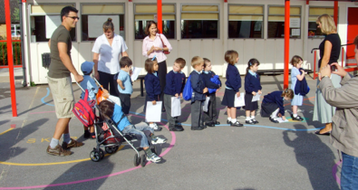 June 25th 2012
Councillors at the Children, Family and Education Committee have voted to admit more pupils at four schools from September 2013. The move follows a positive response from a consultation period with residents that started in March this year.
Demand for primary places is expected to grow substantially from 14,000 in September 2011 to 17,000 in September 2016. Anticipating this increase, Sutton Council has been expanding its primary schools for the past three years and is in the process of consulting residents over plans for the future.
The Borough is especially popular with parents as the secondary schools came top of the exam league tables, according to the most recent figures from the Department for Education, and primary schools were ranked third overall in their SATs.
Cllr Dave Callaghan, Chair of the Children, Family and Education Committee, said: "This is further evidence of our determination to provide good local schools for local families.
 "Sutton has one of the highest birth rates in London and we are responding to the need for extra places in our excellent schools."
Amy Johnson Primary School in Wallington will grow from 30 to 60 places, The Avenue Primary School in Belmont increases from 90 to 120 places, Bandon Hill Primary School, in South Wallington will expand from 60 to 180 pupils and St Mary's Catholic Infants School in Carshalton will accept 90 pupils, up from 60 previously.
The expansion in places comes just a week after councillors agreed plans to provide children with more space to learn and play by approving a series of school improvements.
Three schools were granted permission to build new classrooms and one permitted to lay a 1,800sq metre grass mat over its existing playing field.
Cllr Dave Callaghan added: "This is good news for Sutton's children. Our schools are already envied across London and these improvements will serve to make our schools even better." 
The Avenue Primary School in Belmont is redesigning and refurbishing their current buildings and adding new build where required.  All Saints Church of England Primary School in Carshalton will have a temporary classroom until August this year whilst other building work is being carried out and Victor Seymour Infants School also in Carshalton is going to erect a timber shelter to use as an outside classroom.
While Cheam Common Junior School in Worcester Park will lay a huge mat of safety grass over its school field to allow children to use the playing field more often. The school will also erect a 1.8 metre high wire mesh fence around part of the site to stop balls flying into the car park next door, to ensure that health and safety measures are met.