Bring your old sports clothing and equipment down to Centre Court Shopping Centre on July 1st and donate to this great charity helping those in need. You can win £100 to shop too!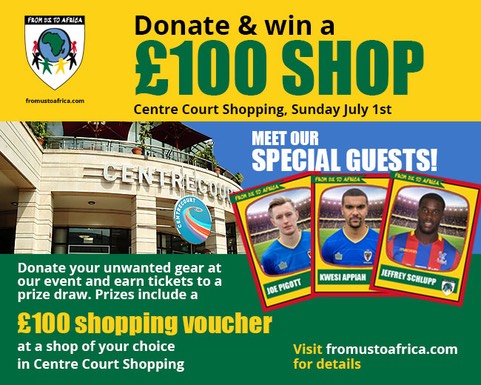 Are you replacing your kids sports gear for the upcoming school year? Do you have any unwanted sports clothing, footwear and equipment you need to get rid of? Want to win a £100 shopping voucher to Centre Court Shopping?
From Us To Africa is a charitable organisation that collects donations of sports gear to send out to those in need across Africa. It has been founded by Kwesi Appiah, AFC Wimbledon and Ghanaian international striker.
Come down to our donation event at Centre Court Shopping, Wimbledon on Sunday July 1st following the AFC Wimbledon kit launch and you can and donate to Kwesi and special guests.
Donations will earn tickets to a prize draw - the more you donate, the more tickets you earn and the greater chance you have of winning. Prizes include a £100 voucher to the shop of your choice at Centre Court Shopping.
For more information, visit From Us To Africa