Here is a fab recipe for using up food in your fridge and cupboards by Local Mum and chef Laura Scott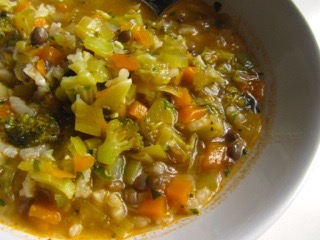 Store cupboards soup uses up all the bits and pieces you have lurking n the fridge and store cupboard such as vegetables that are past their best and small amounts of dried pulses or packets of rice and pasta that aren't quite enough to make a meal out of.
This soup can be adapted to suit whatever you have lying around and it will taste great whatever the combination of beans, pasta, rice and wintry veg you happen to have.
If you are looking for a cheap and nutritious meal then this soup is it just remember to serve it with a lovely crusty loaf and some butter. You could even grate some cheese onto the soup for added flavour and richness.


Storecupboard Soup 


Ingredients :-
Makes enough for one family
1tbsp olive oil
1 onion finely chopped
1 leek finely chopped
2 carrots chopped into small chunks
1 garlic clove crushed
Some leftover florets of broccoli finely chopped
Some leftover risotto rice (not enough to make a main meal with)
Leftover cooked lentils
1tbsp tomato puree
Chicken or vegetable stock (about 1 pint)
Method :-
Place the olive oil in a large saucepan and add in all of the vegetables. Fry for 5 minutes on a medium heat, but don't allow the vegetables to brown.
After 5 minutes pour in the risotto rice and tomato puree and fry for a further 2 minutes.
Add in the stock and bring the soup to the boil then turn it down to simmer on a low to medium heat for at least half an hour.
When the soup is cooked serve it with some grated cheese sprinkled over the soup. Enjoy with some tasty bread to dunk into the soup.
Feel free to replace the risotto rice with pasta shapes, regular rice, tinned pulses or even some pearl barley.
You can add whichever vegetables you have to hand. Just remember to chop them all into even pieces as they will cook evenly and the soup will look better for it!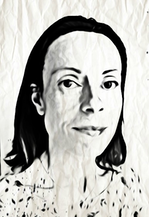 Laura Scott (above) is a Local Mum and trained chef who lived and worked in London up until she got married, had 3 children close together and moved out to Surrey. After a career break, Laura started her writing her food blog and is now working as a cookery tutor throughout Surrey (www.howtocookgoodfood.co.uk).

In her spare time, Laura attends to her newly appointed allotment with the aim of growing and producing seasonal fruit and vegetables.  This is the inspiration for her blog as well as a means of educating her children as to where food comes from and how it should taste.
Laura has also joined the Children's Food Campaign which is working towards improving both the food and the teaching of cookery in schools. She has also recently completed a course in healthy eating and nutrition as well as an RHS certificate in horticulture.  The two courses combine the two big passions in Laura's life, cooking and gardening.
Her inspiration comes from the use of good quality ingredients, seasonal when possible and the combination of flavours that work harmoniously together enabling their natural flavour to shine through.