Set up by three Local Mums, Pro Arts uses drama, dance and performance techniques to equip young people with the vital skills needed to progress.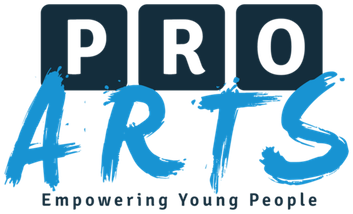 In 2010 Local Mums Natalie and Alison were on maternity leave after giving birth to their first child. Natalie had been working with young offenders and young people that were at risk because they weren't in education or employment and Alison was a recruitment consultant who specialised in getting women back to work after long periods away. Their friend Debra, also a Local Mum, had recently relocated to South London after serving as a police officer.
"Both Natalie and I had also worked as professional actors," explains Debra. "While touring the UK with theatre tours and educational theatre workshops we developed a passion for education through the arts. We realised that this could engage students from all different backgrounds."
Building confidence
On the same day that it was announced the Connexions service had lost government funding and was no longer available to schools the three Local Mums met up. "Youth unemployment was on the rise and with no access to careers guidance it was set to increase further," says Debra. "This lit a flame within all of us and we agreed: 'We should do careers workshops in schools!"
Alison, Debra and Natalie discussed how they could use drama to make the workshops more interesting. "We decided to make a workshop that would help young people with careers and also give them the confidence to be the best that they can be," says Debra. "That was the day the flame for Pro Arts was ignited. From that day on we all went to bed with note pads by our beds because we couldn't sleep. Our minds worked over-time at the excitement of developing such an exciting programme!"
The three mums went on to develop the Careers Challenge, a two hour interactive careers and employability skills workshop that has since been delivered in schools nationwide. They were partnered by Coca Cola to give young people the opportunity to have mock interviews at their head offices in London which not only empowered them but gave them essential experience for entering the world of work.
Bright flame
The Pro Arts flame has carried on getting brighter year by year. Alison, Debra and Natalie have received funding to run community projects to help build confidence and self-esteem in young people from disadvantaged backgrounds. They have a variety of programmes accessible to schools and communities that are delivered nationwide and have been delivering summer camps for four years where young people get a chance to explore different disciplines like acting, singing and dancing and to have a creative input into a fantastic performance for family and friends.
"We believe that drama acts as a tool to break down barriers to help build trust and confidence," says Alison. "This empowers young people to believe in themselves and to make positive decisions for their future. The arts create an outlet for inner emotions and feelings acting as a catalyst for expression. We believe that the arts should be accessible to everyone which will have a positive effect on not only themselves but within the wider community."
Passionate cause
The three mums now have four Pro Arts babies between them. "Some people ask us 'How do you fit everything in with having babies and young children?'" says Natalie. "The answer is simple - passion! We are passionate about young people and their future as these are the ambassadors of our future society, the society that our children will be a part of shaping and we want to see a bright one. Everyday it is consolidated even more that developing the right side of the brain through creativity is essential for our development."       
"We want to be able to give all young people access to the arts and professional opportunities," adds Debra. "We are establishing  the Pro Arts Academy from 2015. This will give young people the opportunity to train with industry professionals every Saturday for three hours and will include training in dance, drama and singing. We will be linked to a West End Agent which will send young people up for professional auditions within the industry.  This will be a great chance to be creative, develop life skills and make new friends!"
"Engage, create, empower" is Pro Arts motto. If you would like to find out more and discover how Pro Arts can help you or your family why not give Allison, Debra or Natalie a call?
Special offer for Local Mums
Pro Arts are offering 20% discount on the 4-6yr camp running 5-7th August, making it £40 for three mornings!

Read Local Mums reviews of Pro Arts
Contact:
Alison, Debra and Natalie
Pro Arts
Tel: 0203 6857939
Email: info@proarts.co.uk
www.proarts.co.uk